Through the lens of Wallpaper* contributor Lydia Whitmore
'Through the lens' is our monthly series that throws the spotlight on emerging photographers who are Wallpaper* contributors. Every month one photographer is commissioned to capture the upfront Newspaper section – an artist's residency in print form – here we explore their vision further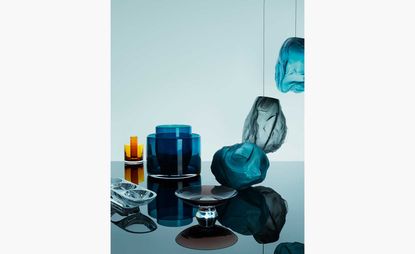 (Image credit: Lydia Whitmore)
Initially, UK-based Lydia Whitmore trained in painting, before evolving into a commercial still life photographer with a studio in east London. Whitmore has recently joined One Represents agency and won Best in Book at the 2018 Creative Review Photography Annual. Her work is featured in Wallpaper's May 2019 issue and we caught up to hear about her working practice.
Wallpaper*: Describe your style of work and process.
Lydia Whitmore: After apprenticing with an amazing still life photographer who taught me invaluable knowledge of the technical aspects of lighting, my previously more artistic approach fused with a more methodical and measured practise. With still life every object you shoot has its own character, surfaces, materials and unique properties. I strive to find and accentuate the beauty of objects, which is what keeps it endlessly engaging.

W*: Who or what made you want to be a photographer?
LW: Because I grew up in a quite isolated area of the Sussex woodlands I didn't have access to TV or media, so it was cinema that initially inspired me and always seemed incredibly magical. Working towards the creation of a filmic fantasy world is what continues to motivate me. Filmmakers and artists Kenneth Anger and Matthew Barney are lifelong heroes of mine.
After having spent some years studying painting at Central St Martins and Chelsea School of Art, giving me a strong basis to work from, I ultimately found photography more immediately gratifying; it's relatable for an audience and the most honest and clear expression of my ideas.

W* What's currently on your radar?
LW: Recently I've been excited about artists exploring the point at which image making and technology meet, such as Frederik Heyman who's been doing some fascinating work with photogrammetry staging digital worlds. I tend to try to look for inspiration outside of social media and my still life photography peers.

What is always most inspiring for me however is collaboration; I'm in the early stages of a film project with artist Nicky Deeley. Also I'm building a creative agency with two colleagues (newpartner.services), which smoothly allows us to pool our skills and increase the scope of what we can physically achieve with a single idea. It's an incredible feeling having the resources to create pretty much anything I can imagine.
INFORMATION
lydiawhitmore.com (opens in new tab)
Sophie is currently Photography Editor at Wallpaper*. Sophie joined the team following the completion of her photography degree in 2018, and works with Photography Director Holly Hay, where she shoots, commissions, produces, and writes on photography. Alongside this, she continues her art practice as a photographer, for which she was recently nominated for the Foam Paul Huf Award. And in recognition of her work to date, Sophie was nominated by the British Journal of Photography for the Futures photography platform in 2021.