Philippe Parreno transforms the Rockbund Art Museum in a perpetual motion of events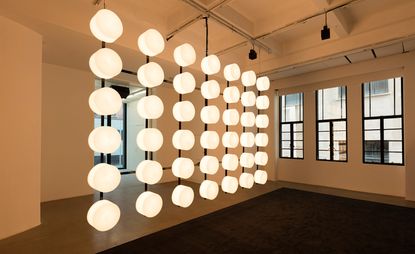 (Image credit: Andrea Rossetti )
For the past two decades French-born artist Philippe Parreno has used museums as his material. Known best for his recent installations at Tate Modern, HangarBicocca and the Palais de Tokyo, he has turned exhibition spaces into the exhibition. Instead of installing art on the walls, Parreno begins with what already exists in the architecture of a building, choreographing light, sound, image and space in an ephemeral dance.

Parreno's first ever exhibition in China follows a similar strategy. 'Synchronicity', at the Rockbund Art Museum in Shanghai until mid September, sees window blinds opening and closing over a window like a blinking eye, casting different shadows over a room. A heliostat shunts natural sunlight through the glass rooftop over the floor below. On the third storey, an illuminated marquee constructed in glass — referencing the skylight design of the museum's upper floors — plays music that can be heard throughout the space. The artist even nods to the design of the building, completed in 1933 and restored by David Chipperfield in 2010: his vertical plane slices through four of the building's six floors, referencing the central axis and the overall harmony of the space.
'Synchronicity' is so site-specific, no visitor will experience it in the same way twice. Depending on the time of day, you'll experience dramatic shifts in atmosphere as you wander the four floors — so when you confront works such as Anywhere Out of the World (2000), Parreno's 3D tribute to Manga animation, your perspective might be altered. Other, more tangible works include Fade to Black, a new series of fluoro silkscreens that dim and reappear according to the quality of the light.
Fans of Parreno will recognise translucent and incandescent elements from his previous works. They've become a core part of the artist's practice, helping him to realise his vision. Larys Frogier, Rockbund director and curator of the exhibition, explains, 'Parreno invites visitors to engage with contradictory notions of the physical, emotional and conceptual. He blurs the distinction between reality and fiction to create an all-encompassing world of endless possibilities.'
INFORMATION
'Synchronicity' runs until 17 September. For more information, visit the Rockbund Art Museum website (opens in new tab)
ADDRESS
Rockbund Art Museum
20 Hu Qiu Lu, Huangpu Qu
Shanghai Shi
China, 200085
VIEW GOOGLE MAPS (opens in new tab)
TELEPHONE
86.21 3310 9985
Charlotte Jansen is a journalist and the author of two books on photography, Girl on Girl (2017) and Photography Now (2021). She is commissioning editor at Elephant magazine and has written on contemporary art and culture for The Guardian, the Financial Times, ELLE, the British Journal of Photography, Frieze and Artsy. Jansen is also presenter of Dior Talks podcast series, The Female Gaze.