A new Venice arts centre is bringing the plight of our oceans to the fore
A multimedia installation by artist Joan Jonas inaugurates Ocean Space, a collaborative platform for change opened in the newly revitalised San Lorenzo church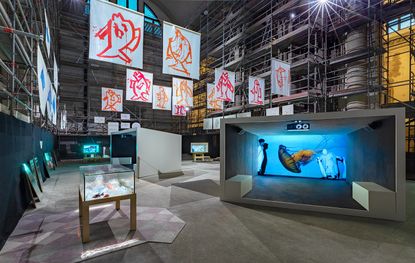 (Image credit: Enrico Fiores)
A ninth-century Venetian church largely closed to the public for more than 100 years has reopened as the home for Ocean Space, an interdisciplinary arts centre with a focus on marine conservation. An immersive multimedia installation by American artist Joan Jonas inaugurates the new 'embassy for oceans', which has been spearheaded by the eco-minded offshoot of Austrian art patron Francesca Thyssen-Bornemisza's foundation TBA21 (Thyssen-Bornemisza Art Contemporary).

'Today, [Venice] struggles alongside numerous other coastal communities and island states the effects of climate change and sea level rise, making the mission and programme of Ocean Space ever more topical to the local community and its visitors,' explained Thyssen-Bornemisza in a statement. Since its inception in 2011, the nomadic TBA21-Academy has collaborated with a global network of artists, scientists, explorers, legal experts, and policy makers intent on fostering a greater understanding of our oceans through the lens of art. The academy's diverse non-profit programme encompasses exhibitions, installations, commissions, residencies and expeditions.
Curated by Stefanie Hessler, Jonas' installation Moving Off the Land II is the culmination of three years of research in aquariums worldwide. The work intertwines prose by writers including Emily Dickinson and Herman Melville with moving images captured during Jonas' residency off the Jamaica coast. Oceans have surfaced in the artist's work previously, including her project for the 56th Venice Biennale – a poetic reflection on the fragility of nature.
RELATED STORY
Dozens of drawings of marine life suspended from scaffolding carry the eye upwards to the church's lofty ceilings. 'I purposefully left the scaffolding up because I like the kind of roughness of it, and the idea off temporality and the situation relating in some way to the situation in the oceans,' said the artist. Coinciding with the Venice Biennale vernissage, Jonas will perform in the space on 7 May, accompanied live by composer and drummer Ikue Mori.

Following the conclusion of Jonas' exhibition at the end of September, further work will begin on the interiors before Ocean Space's programme relaunches in spring 2020. Spanish architect André Jaque of Office Political Innovation is responsible for the interior architectural intervention, which is expected to complete within the next two years. Taking advantage of the soaring nave within the Church of San Lorenzo, Jaque's design centres on a modular structure of platforms, allowing for a range of exhibitions, installations and workshops.
INFORMATION
'Moving Off the Land II' is on view until 29 September. For more information, visit the Ocean Space website (opens in new tab), TBA21-Academy website (opens in new tab) and Office for Political Innovation website (opens in new tab)
ADDRESS
Church of San Lorenzo
Campo San Lorenzo
30122 Venice
VIEW GOOGLE MAPS (opens in new tab)