Modernist hero? We reveal guest editors Elmgreen & Dragset's fictional conceit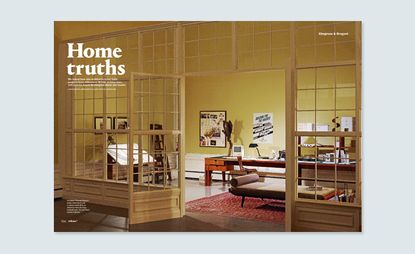 (Image credit: press)
In our October issue we welcomed Nordic art duo (and long-time friends of Wallpaper*) Elmgreen & Dragset as guest editors. They in turn welcomed us inside the grand but more-than-slightly melancholic South Kensington home of architect Norman Swann. Writing in the issue, Kieran Long, senior curator of contemporary architecture, design and digital at the Victoria and Albert Museum in London, called Swann's influence 'one of the important, hidden currents of contemporary British architecture' and Wallpaper* editor-in-chief, while acknowledging his previous ignorance of Swann's career, calls him an 'outstanding architect, philosopher, writer, teacher and social commentator'. But now it's time to come clean.
As some of you may have worked out, dear old neglected Norman Swann is no more real than his crumbly South Kensington pile (and many thanks to Long for his elegant trickery). Our peek through Swann's keyhole was actually a preview of 'Tomorrow', Elmgreen & Dragset's new show at the V&A, opening today, a conjuring up of the fictional Swann's home in what were disused textile galleries.
The pair have picked 100 pieces from the V&A's collection, augmented with their own works and finds from antique markets, to create the Swann residence. Visitors to the show are invited to root around his rooms, rifle through his library, and even lie in his bed and put together their own take on Swann's way, conduct their own search for lost time (though the pair have also provided a script for an unmade film to fill in some of the gaps).
'Tomorrow' is the latest, and perhaps the most disquieting and affecting, of Elmgreen & Dragset's set pieces. And it was a pleasure to be in on the act.