Last chance to see: 'Elmgreen & Dragset: The Nervous System' at Pace New York
Scandinavian artist duo Elmgreen & Dragset caution against short-term memory in their first major show with Pace Gallery, calling our attention to crises beyond the pandemic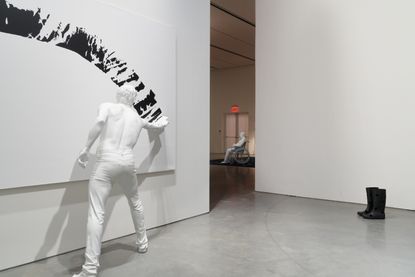 (Image credit: Courtesy of Pace Gallery)
There's a painter at work in the street-facing ground-level gallery at Pace New York, visible to passers-by on West 25th Street. He stands in front of a sizable white canvas, pristine save for a single, sweeping black stroke that evokes a tyre mark, applied with a spatula that he still holds in one hand. His back is turned to us, and we are left to guess at his facial expression, but his assertive bearing and insouciant attire – a pair of jeans, sans shirt so his muscular back and shoulders are on view – suggest supreme confidence.
The Painter, Fig 1, as he is called, is one of twelve pieces (ten of them new) that Elmgreen & Dragset have included in their solo exhibition, 'The Nervous System'. While the Scandinavian artist duo's previous works have depicted a boy astride a rocking horse for London's Fourth Plinth, and forlorn teenager seated on a fire escape, this is a man in his prime, a postcard picture of heroism inspired by old photos of Wilhelm de Kooning in his East Hampton studio. But their current show is not a paean to abstract expressionism: any impression of nostalgia is quickly disrupted by a smaller artwork in the same space, a pair of wellington boots (in patinated bronze) ridden with holes. 'They're a symbol of our pathetic efforts to protect ourselves from climate change, and how we can't turn the tides if we're not changing our behaviour completely,' explain the artists.
A Hard Rain's A-Gonna Fall, 2021 by Elmgreen & Dragset. Photography: Elmar Vestner
We encounter more disquieting images as we step into the main gallery. A boy gazes out of a lightbox display that masquerades as a window. Earlier in the year, the artists created a similarly configured piece called Offline, a poignant reflection on pandemic living, in which the boy presses his hands against the perspex and appears to yearn for 'something that can't be found inside or a reality other than the one we find online'. The new work takes on more sinister tones, with ethereal blue skies replaced by a gathering storm. Here, the boy's arms are raised, and his right hand clutches a gun. Its form is deliberately ambiguous, so one can read it as either a toy or a lethal weapon. Still, it's hard not to see Boy with Gun and not immediately think of the onslaught of gun violence that makes the United States an outlier of the developed world.
Boy With Gun, 2021, by Elmgreen & Dragset. Photography: Elmar Vestner
'School shootings are for the most part a white male problem. If you look at the statistics, it's white boys who are responsible for these shootings, which has to do with a feeling of entitlement,' they say. They find it disturbing that boys are often expected to play with toy guns, rather than being taught to respect other people's lives: 'The mindset that results in violence begins to form really early in life. It's why you should put in all the effort and resources you can to nurture the next generation in a different way.'
The artists' commentary on the crisis of masculinity continues throughout the space, which also features three familiar characters: Bogdan, Kev and Flo from Short Story, an installation that was first shown at Berlin's König Galerie. This time, Bogdan, a wheelchair-bound elderly man drifting off in slumber, is placed atop a black woollen rug designed by the artists. A Day Short of a Year, as it is titled, is covered with 364 white tally marks, perhaps pointing to Bogdan's imminent demise or the end of an era. Kev and Flo are two boys on opposite ends of a tennis court, the younger Kev has evidently lost the match and lies exhausted on the floor, while the elder Flo clutches a trophy but appears despondent. Unlike in Berlin, where viewers could roam the tennis court freely, the court at 'The Nervous System' can only be viewed behind glass, forcing us into the same perspective as Boy with Gun and grounding our experience of the artwork in the current pandemic.
RELATED STORY
We are reminded of the fact that we're indoors, perhaps against our will. The effect is enhanced by furniture pieces within the show – some (such as a distinctively masculine 'Ox' chair and a long leather sofa, both by Hans J Wegner) carefully sourced to evoke the midcentury, others created by Elmgreen & Dragset. A second rug in the exhibition, evocatively titled Lost Memories, has seven circular holes that, despite their geometric precision, feel like bullet holes. An original travertine fireplace has elegant proportions, inspired by the artists' visit to a public library in São Paulo by Lina Bo Bardi. But it comes, disorientingly, with a TV antenna and is etched with the words 'The oracles are gone and lost are the gods.' (Adjacent is The Kiss, a new sculpture of two intersecting jerrycans).
The Ox and the Snake, by Elmgreen & Dragset, featuring a lacquered bronze python coiled on an 'Ox' chair by Hans J Wegner. Photography: Elmar Vestner
The artists have created a table lamp as well, featuring a porcelain base of two gently intersecting spheres, which taper into two necks supporting light bulbs and a lemniscate-shaped white cotton lampshade. They were inspired by a Qing dynasty vase that they encountered at Taipei's Palace Museum years ago: 'despite its age, it reminded us of Félix González-Torres' Perfect Lovers', they recall. Unusually for an artwork, it is available in four colourways (each an edition of three): mint green, dove blue, millennial pink and eggshell white. They point out that the colours in fact reference edible pigments that are used to coat HIV medicines such as Truvada and Isentress – behind their visual appeal lies a painful history that we must not forget.
Coupled Lamp (Mint Green), by Elmgreen & Dragset. Photography: Elmar Vestner
This is a melancholic exhibition, a cautionary message in a city that, at least until the arrival of the Omicron variant, has been dizzy with optimism. As Elmgreen & Dragset explain, 'the artist's role is to go against short-term memory. This is one of the few tasks we have.' In a world that seems swept away by promises of a brighter future post-pandemic, they wish to remind us that there are longstanding problems to be dealt with: among them the climate emergency, gun violence and toxic masculinity. We'd be wise to tackle them head-on, lest we find ourselves left with a pair of perforated wellies when the waters rise.
INFORMATION
'The Nervous System' runs until 18 December, Pace New York, 540 West 25th Street, pacegallery.com (opens in new tab)
TF has been editor of Wallpaper* since December 2020. He is responsible for our monthly print magazine, planning, commissioning, editing and writing long-lead content across all our content pillars. He also plays a leading role in multi-channel editorial franchises, such as our annual Design Awards, Guest Editor takeovers and Next Generation series. He aims to create world-class, visually-driven content while championing diversity, international representation and social impact. TF joined Wallpaper* as an intern in January 2013, and served as its commissioning editor from 2017-20, winning a 30 under 30 New Talent Award from the Professional Publishers' Association. Born and raised in Hong Kong, he holds an undergraduate degree in history from Princeton University.