Mike Nelson at Hayward Gallery: a dystopian thriller that's impossible to forget
We review Mike Nelson's epic survey show 'Extinction Beckons' at Hayward Gallery, London, a monumental exhibition filled with dark humour, unsettling encounters, and modernist dreams lost to capitalism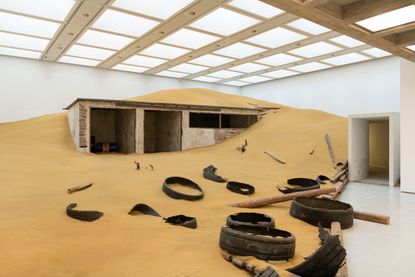 (Image credit: Matt Greenwood. Courtesy the artist and the Hayward Gallery)
Mike Nelson is a deft scavenger. The British artist's monumental, enveloping installations are amalgams of materials salvaged from junkyards, secondhand shops, auctions and flea markets. He also scavenges from bygone eras, sampling fragments from lost belief systems, interrupted histories and cultures that feel eerily at odds in a globalised post-truth world.
Nelson's 'Extinction Beckons' at London's Hayward is not a retrospective, it's a survey. But even in survey terms, it's anomalous. How to survey the work of an artist, whose mammoth work would make most galleries look like a shoebox? 'The exhibition is so large and complex that it takes control of me,' he says. 'Although it's doom-laden, there's a dark humour to it.'
Our first encounter is with a notice board, the sort you might find on the exterior wall of a village hall. It announces the first piece, I, IMPOSTER (2011), originally created for the British Pavilion at the 54th Venice Biennale. The title reflects the feeling we have as we edge into a space which, for a moment or two, feels like we might have accidentally stumbled back-of-house. Inside, a passageway of shelving, stacked with worn-out furniture, materials and fixtures, as though lingering in storage. The space is saturated in a dim red light evocative of a photographic darkroom. Nothing is easy to discern, and everything raises questions.
This sets the tone for an extraordinary show that is less about what one sees or understands, and more about the lingering effect on one's body and mind.
Five months ago, Nelson began conceiving 'Extinction Beckons' from a temporary studio in an old Argos warehouse in Orpington, Kent. 'It was quite perfect in some ways, with my liking of things that are obsolete,' he says.
The treatment Nelson has given to Hayward looks permanent and irreversible, as though the submerged structures and towering assemblages might have been in situ for decades, abandoned and gradually being devoured by the merciless snare of time.
The Hayward's architecture – modernism incarnate – is an apt stage for Nelson, whose bread and butter is the exploration of modernity and all it represents, then and now. 'It's quite perfect for the work', he says.
Nelson equates modernity – an era defined by individualism, industrialisation and optimism – to a religion, scavenging the obsolete relics and infrastructure that furnished his childhood in post-war Britain and elevating them to the rank of readymade deities.
In The Asset Strippers (solstice), (one part of Nelson's epic takeover of Tate Britain's Duveen Galleries in 2019), we find a series of three hay rakes sitting atop an altar-like steel trestle like religious icons. We gaze up in servitude to the objects we once commanded, defunct detritus still bear the traces of the hands that worked them. Without humans, and in an era defined by capitalism, they are monuments to a lost era – a relic of the society they once represented. 'Now that's gone. And I do feel we're in this strange time where we're not sure what is defining us as human,' he says. 'At the same time, we're developing this intelligence which is beyond ourselves, which actually, if we were to follow the logic that we're beyond animal because we have consciousness, then [that] intelligence is beyond us. Does that relegate us back to animal? Does it make us extinct? [These are] very confusing times.'
'Extinction Beckons', in some parts, is a version of contemporary hell, but it's also a place of rebirth. The show features reincarnations of Nelson's key installations, including The Deliverance and the Patience (2001), Triple Bluff Canyon (2004), and Studio Apparatus for Kunsthalle Münster (2014). But for those who know Nelson's work, there are uncanny twists that rupture familiarity. 'It's physically complex and psychologically odd because you're rebuilding things you built years ago and thought you'd never stand inside again.' Nelson reflects on The Deliverance and The Patience, originally commissioned for the 2001 Venice Biennale in Giudecca, which has now been reimagined as an 'object' for the Hayward show and 'almost looks like it's been untethered and floated here from Venice'. 'It was very intense to go back and think about that. Perhaps it does make you question slightly, "What have I been doing?"'
When I suggest that, if this show is anything to go by, Nelson has been doing rather a lot, he laughs. 'Yes, but why? As Ralph [Rugoff, director of the Hayward] said, [my work] "defies common sense"!'
The Deliverance and The Patience is the most physically and psychologically searing work in the show. It's not something you can really look at, or take pictures of in any meaningful way. Nelson passes the experiential heavy lifting onto the viewers (though they are more subjects), who are given a choice of doors. They must decide how to move through the maze passages and rooms, and live with the anxiety that they might never find the exit. It's part installation, part escape room; the resulting sensations are a disconcerting mix of claustrophobia and curiosity. 'This is why I like building big things that you can walk through because that is immediately effective,' he says. 'In some ways, it's quite childish, which isn't a bad thing. You don't have to be versed in art history, but if you are, that gives it another level.'
'Extinction Beckons' is speculative, perhaps, but fictional, not exactly. Nelson's aim is not to narrate stories, but to create a stage on which narratives can unfold. Car tyres, heavy machinery, road signs, biker gear, clown masks, concrete heads. These are the niche furnishings of science fiction, failed political movements, bleak histories and countercultures, but are for all to enter, critique and fear. The stories exist in the objects' lived history, their combinations, and the stories that visitors themselves bring to the space. To paraphrase Warhol, nothing has any atmosphere until it's a memory.
'A lot of it's to do with an empathetic reaction to the things, to the matter,' Nelson says. 'I think that's possible where the greatest success is. If you were to try to articulate it, it might sound trite. But to actually feel it is something different.'
Mike Nelson lets material memory do the talking. Dig too deep into the signs and symbols and before long, you get the sense of being wrapped up in a conspiracy theory. This is the danger, and thrill, in his work; it's no place for overthinkers.
'Extinction Beckons' is one of those rare shows that will lodge in the collective consciousness. Not because it's been seen, but because it's been felt.
Mike Nelson: 'Extinction Beckons', until 7 May 2023, Hayward Gallery, London. southbankcentre.co.uk (opens in new tab)
Harriet Lloyd-Smith is the Arts Editor of Wallpaper*, responsible for the art pages across digital and print, including profiles, exhibition reviews, and contemporary art collaborations. She started at Wallpaper* in 2017 and has written for leading contemporary art publications, auction houses and arts charities, and lectured on review writing and art journalism. When she's not writing about art, she's making her own.