Michael Sailstorfer's Silver Cloud crashes Berlin Gallery Weekend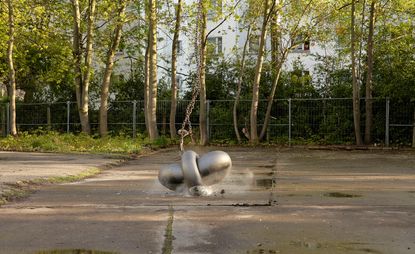 (Image credit: COS)
There was a second's silence before the 'cloud' smashed the concrete ground at Michael Sailstorfer's studio in north Berlin. The excitement and anxiety associated with the uncertainties, transitoriness and destructiveness of the artwork is a theme that the German artist constantly explores in his oeuvre.

Silver Cloud is an one-time outdoor performative installation that took place the first and only time the day before the Gallery Weekend in Berlin started and was specially commissioned by the fashion label COS. The 'cloud' took the shape of the sculptures Sailstorfer created in 2012, two interlocked truck tyres cast from two tons of steel. Suspended from a crane some 25 metres from the ground in the studio's parking, the piece was dropped choreographically from differing heights for about 30 minutes until it gradually destroyed the concrete surface beneath.

Sailstorfer took inspiration from two important works in contemporary art history: its namesake, Andy Warhol's Silver Cloud, pinpointed the transformation from lightness to heaviness; Michael Heizer's Bern Depression in 1969 used a wrecking ball to destroy the pavement in front of Bern Kunsthalle. 'It is like a floating cloud, appearing to be light but heavy enough to destroy the ground,' says Sailstorfer of his work, 'The destructive elements in my work are always present somehow. The consumption of materials, time and continuity are the traces of life and belief, and are things that have driven me to create my artworks. I think that is always interesting.'

COS's architectural and minimalist attitudes can be seen through the collaborations it has developed in recent years. Weeks ago, we witnessed the mesmerising 'Forest of Light' by Japanese architect Sou Fujimoto during the Salone del Mobile week in Milan; earlier it had been the 'Tape Paris' installation by art collective Numen/ For Use at Paris's Palais de Tokyo. The discussion between the brand and Sailstorfer was initiated two years ago, 'For us it is about working with an artist that we find inspiring, and to combine his work and his DNA with our work and designs. It is important to give the artists a blank canvas; we do not want to interfere with their work,' says Karin Gustafsson, head of womenswear design.

She adds: 'The combination of the repetition of each drop and the sound of the cloud hitting the ground almost created a calm effect.' A video documentation made by Jörg Hommer completes Silver Cloud – the audience can experience the falling cloud in slow motion, when the hard steel and concrete appear to be soft and almost poetic.
A video documentation of Silver Cloud made by Jörg Hommer completes the work – the audience can experience the falling cloud in slow motion, when the hard steel and concrete appear to be soft and almost poetic
INFORMATION
'Silver Cloud' took place on 28 May 2016. For more information, visit the website (opens in new tab)
Photography courtesy the artist and COS