Bruce Gilden on the art of street photography and his pursuit of good portraits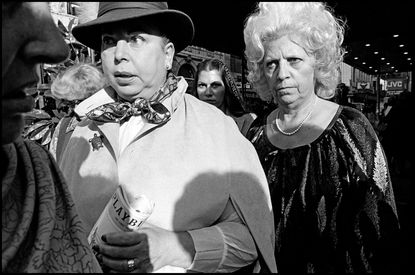 (Image credit: © Bruce Gilden / Magnum Photos)
Bruce Gilden is talking of his own father, a 'mafia-looking figure with pinky rings, thick hair, hats, big cigars'. His father was 'a tough guy, a streetwise guy' – a classic figure of the subterranean world of New York City.

Yet he recalls his teenage self as an uncertain and anxious presence. The only thing he had any confidence in was sports. He remembers watching wrestling on TV as a kid, and feeling sucked in by the aggression and physicality of it all. As a teenager, he'd spend his days playing basketball and baseball and hanging out in boxing gyms. 'It was a reason to get out of the house,' he says. 'It was not very happy living at home with my parents.'

He dropped out of college and started taking photography classes after trying numerous courses – including acting. The first time he developed a photograph, he was hooked. 'I had done something besides sports for myself, and it was incredible.'
Gilden was 21. The year was 1967, and New York was the most international place in the world – a megacity of bizarre and striking characters. He talks about the 'stress and anxiety' of the city sidewalk as if it's an addiction. On an almost daily basis, he would take his camera onto the sidewalks. 'And you never knew what was going to come around the next corner. And you don't have to talk to anyone,' he says. 'You just take your camera and go out on the street.

He decided to stop walking the streets of New York four years ago – and has since focused on many other long-term essays including on 'prostitutes' in Miami, for a new project published this year by London's Brown Editions titled Only God Can Judge Me. Until then, New York, he says, 'was my lifetime project'.

Although he's now a revered name and a senior member of Magnum Photos, Gilden didn't always get a lot of attention from the photography scene. He wasn't motivated by glitzy commissions or solo exhibitions or seeing his name in magazines. He shot on the streets for reasons entirely his own. It was, he says, a compulsion. 'You have to try. Even if you're not feeling well, you're trudging. It is hard. But you continue to do it.'
RELATED STORY
In that time, Gilden developed a signature. A Bruce Gilden photograph is unmistakeable. Love them or hate them – and he's a photographer with his fair share of detractors – a Gilden photograph could never be anything but a Gilden photograph. With the use of a flash, Gilden has become renowned for the way he pushes the limits of the frame with his sheer proximity to his subjects. 'I'm known for taking pictures very close,' he says. 'And the older I get, the closer I get.'

His success, he says, lies in little more than the doggedness of his pursuit of good portraits, come what may. 'I'm definitely a bulldog,' he says. 'I think, to be a good photographer, you don't have to be a genius but you have to have an aptitude and a degree of talent. You have to persevere. You have to stay the course.'

'I wanted to get back at my father,' Gilden says. 'Because he was always negative towards me. He always said negative things. So I'm always proving to myself I can do this. Maybe that's one of the reasons why I photograph people.'

Magnum Photos has launched an online education platform, with 'The Art of Street Photography'. Bruce Gilden is among seven of the agency's renowned photographers who have contributed their valuable insights and experience to the course, which comprises ten in-depth lessons to help hone photography skills through location demonstrations and candid interviews. See an exclusive excerpt of Gilden's case study from the series below and learn more about the course here.
INFORMATION
For more information, visit the Magnum Photos website
Receive our daily digest of inspiration, escapism and design stories from around the world direct to your inbox