Magnum photographer Bruce Gilden opens up his archive of 'characters'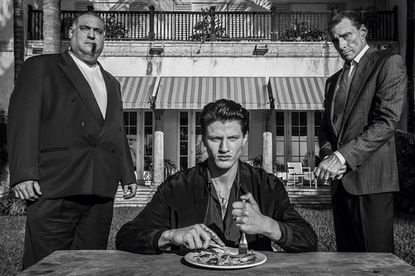 (Image credit: Bruce Gilden)
If Paul Giamatti has been dubbed our time's character actor, then Bruce Gilden (opens in new tab) must be our character photographer. Having grown up on the mean streets of Brooklyn in the 1960s, Gilden began his career snapping the larger-than-life 'characters' of his urban surroundings, from Coney Island's lobstered sunbathers to his local neighborhood tough guys.

Attracted to the darker side of life, with an avid interest in the often harsh realities of the average man, the former sociology student soon became known for his extreme up-close, reportage style. Shooting his subjects on-the-go, with most still lost in thought at the moment his flash fires, Gilden's in-motion technique allows him to capture both the energy, and anxiety of their startled gazes on film.

Putting the viewer at the centre of his subject's story through his tight composition, Gilden's artistic ambush delivers a voyeuristic intimacy that has seen him colourfully document far-flung cultures – from the many faces of Haiti (opens in new tab) (he's been there 22 times since his first visit in 1984), to his world-weary portraits of Portugal's gypsy community (opens in new tab).

And although America remains his preferred hunting ground, the homogenisation of cities like his beloved New York has lead him abroad in recent years, releasing books such as 'After the Off' (opens in new tab), capturing the 'riveting strangeness' of Irish horse racing, and 'Go', examining Japan's shadier sub-cultures (opens in new tab) from the Yakuza (mobsters) to the Bōsōzoku motorcycle gang (opens in new tab).

Favouring age over youth, and black and white over colour, the Magnum photographer (opens in new tab) may be not be the obvious choice to shoot a fashion story in the Miami tropics for our March Issue (W*180), but Gilden nethertheless indulged us, albeit with a few wise guys thrown in for good measure.

However, gangsters aside, as it turns out, these days the 67 year-old is just as obsessed with his cats as he is with chronies. And contrary to the serious nature of much of his work, the man also loves a good laugh, reflective of the archive selection that he shares with us here, capturing truth, humour, pain and compassion in his art – just like you'd expect from any real character.
We speak to the photographer (pictured below) about his street style and our March issue's Al Capone connection…
W*: You're the antithesis of the photo-lens photographer who spies on their subjects from afar, and have said that as you get older, you're only getting closer… so what are you looking for in your 'characters'?
Bruce Gilden: I think the closer you are to the subject, the closer you can get to their soul.

What is it about the street that's always charged your creativity?
I was able to go out, use my athleticism, not speak to anybody and lose myself in the crowded streets.

You've said: 'What makes a good photographer is that you photograph who you are…' So who are you, looking at the images you have chosen for us?
When I was five years old I wanted a monkey, to play the drums and be a boxer. Even at that age, I always liked underdogs and people who aren't your average person.

Explain the thrill of getting the shot?
If you don't feel it, you can't shoot it. It's intuitive. When you see something that makes you want to raise your camera to your eye, it's a good feeling.
Starting in the boroughs of Brooklyn you soon moved off shore in search of conventional cultural clichés to subvert…. Where would you still like to venture?
South Africa or somewhere where there are tough guys.
We've heard that you can't stand your Brooklyn accent…?
I always wanted to do Shakespeare but I always knew it would be difficult for me.

What interested you about shooting for Wallpaper*?
It's classy.

You shot at Al Capone's former Florida home. Tell us about the casting for the fashion story?
The casting for the Wallpaper* shoot was quite important because, as in my personal work, I needed people who stimulated me visually in order to make good photos. Once we have these people in place, the next part of the process comes into play: where to place them and doing what. With the right people, it flows much more smoothly.

You shot in Miami, yet the story is all in black and white…?
For my whole photographic life until approximately two years ago, I shot in black and white. Now I'm working mostly in colour. Some subjects are better in black and white and others speak to me in colour.

In this instance you shot digital. What medium do you prefer?
I prefer film, however digital has advantages. It spoils you: you see the end product right away. It's like a narcotic. And you don't have to worry about your film getting X-rayed at the airport.

After launching your latest book 'A Complete Examination of Middlesex' late last year, what's next for you?
I received a Guggenheim Fellowship this year and I'm working on a project called 'Left Behind', which consists mostly of peoples' faces in colour. Most of it is shot in America and some is in the English Midlands.