Magnum Photos' new Paris gallery spotlights past and future
Magnum Photos expands its footprint with a new gallery space in Paris, inaugurated with multigenerational joint show 'Bruce Davidson & Khalik Allah: New York'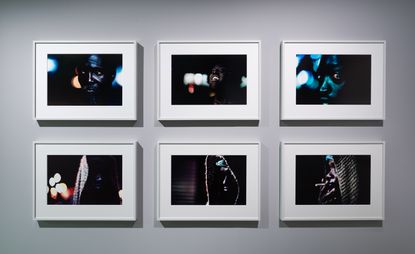 (Image credit: Magnum Photos)
In 1947, photojournalism was at its height, and a handful of photographers – including Henri Cartier-Bresson and Robert Capa – created a cooperative in Paris they called Magnum Photos. Ever since, it has been a photographer's dream to be a member of this exclusive circle.
But the landscape has changed since Magnum was first launched. Back then, magazines were more powerful, and photographers could more easily make a living in print. As photojournalism has followed the fate of journalism as a whole, 'the art market has offered a new opportunity for Magnum to think about who we are and what we can offer', says Samantha McCoy, the director of Magnum's Paris gallery since early 2020. (There is a second gallery in London.)
Magnum Paris: the new gallery
A New Yorker with impeccable art world credentials (her father is gallerist Jason McCoy, her great-uncle is Jackson Pollock), McCoy explains that the Magnum gallery was until recently a little-known appendage of its offices in northern Paris. 'For the city where photography was born, I saw the chance to have a proper gallery and to reposition Magnum in the art world, with exhibitions that are exciting and intellectually stimulating.'
Magnum sold the former building and looked for a more central address where the gallery could be front and centre, while the photographers (who are all co-owners) would also feel at home. They found a 19th-century industrial building at the end of a passage in the 11th arrondissement. It had warmth and personality: wood and concrete flooring, brick walls, timber columns. The London firm Johnson Naylor was hired to redesign the interior. Fiona Naylor knew Magnum well, as her late husband, photographer Peter Marlow, had been a member of the agency.
'The building had great bones,' Naylor says. 'When you've got a building like that you enhance it, and layer in careful interventions.' Visitors now walk in to discover the gallery first, along with an open library/bookstore containing Magnum's superb collection of books. At the back, Naylor created a mini cold room and a private viewing room holding precious binders of contact sheets, including many by Capa.
RELATED STORY
Custom-made modular walls break up the gallery space. (They are inspired by ones that McCoy spotted at the Fondation Henri Cartier-Bresson in Paris.) Naylor also designed glass vitrines where the gallery can display letters and archives, and she reused furniture from the old space, including vintage items by Jean Prouvé and Charles & Ray Eames, as well as a sofa by the Bouroullecs that sits invitingly in a window.
A staircase leads to the photographers' offices upstairs. One photographer, Richard Kalvar, a Magnum member since 1975, was at the gallery opening wearing a camera around his neck, as he has done practically every day for the past half-century. 'We've had galleries before,' he says, 'we've had serious people selling prints, but this I think is the first time we've had a real gallery gallery. This is a good show. It's in a coherent space.'
For the inaugural Paris exhibition, McCoy paired two photographers and their visions of New York City, taken decades apart. Bruce Davidson's photos of East Harlem in the 1960s and life in the subway in the 1980s, many of them vintage prints, hang alongside nighttime portraits at 125th Street and Lexington by the up-and-coming Khalik Allah, a nominee member of Magnum. The different bodies of work play off of one another, while showing the influence of Davidson, 88 and one of the all-time greats, on the younger man.
The gallery will host four to five different shows a year. At all times, collectors have access to contemporary and vintage prints by the range of Magnum photographers, from Capa to Raymond Depardon, Elliott Erwitt, Josef Koudelka, Inge Morath, Martin Parr, Alec Soth – nearly 100 in all. Next year, for Magnum's 75th anniversary, McCoy hopes to have one of its living legends curate an exhibition of younger talents, once again paying homage to the past while aiming its lens at the future.
INFORMATION
'Bruce Davidson & Khalik Allah: New York', until 18 December 2021, magnumphotos.com (opens in new tab)