Martin Parr on chronicling modern passions and Düsseldorf's hobby-gardeners
The British photographer is the subject of his most comprehensive retrospective to date at NRW-Forum, which includes a new series of portraits of local allotment gardens created especially for the exhibition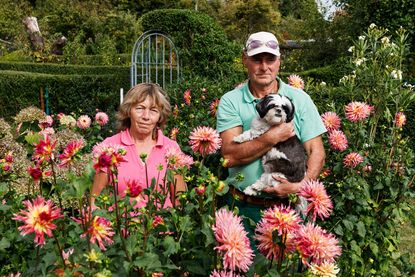 (Image credit: © Martin Parr / Magnum Photos)
A blonde woman on a beach chair, working on her holiday tan. Her eyes are covered to protect them from the sun, her legs are slightly apart. Was this photograph taken by a voyeur from the foot of her lounger? No. Martin Parr captured this scene in 2000 on Knokke beach in Belgium. By focusing on the grains of sand sticking to the young woman's right big toe, he redirects our gaze to this seemingly insignificant detail, shifting the narrative and lending it a poetic sense.

Parr is one of the most important documentary photographers working today. Now, NRW-Forum in Düsseldorf is putting on the largest retrospective ever of Parr's work, comprising 400 of his photographs. The exhibition, which runs until 10 November, includes some new and several early works being exhibited for the first time.

'If I get ten good pictures a year, it's a good year,' says Parr, who is in Düsseldorf for the opening of this exhibition. The British photographer depicts the leisure and consumer behaviour of the western world, sometimes in its extreme manifestations. He is a chronicler of modern passions: 'When people laugh and cry at the same time when looking at my pictures, that's precisely the reaction the pictures evoke in me. The things are neither fundamentally good, nor bad. I am always interested in portraying both extremes.'
Parr's skill consists in being able to create a composed image out of a fleetingly captured moment. A cruise tourist dripping with jewellery in Yucatán, an Asian travel group in rank and file in front of the Acropolis, rain-soaked hikers in plastic ponchos at Machu Picchu. No journey is too onerous for the 67-year-old when it comes to encapsulating the absurdity of our world.

But Parr is not only interested in consumers, he is also interested in the consumer goods themselves. His still lifes are iconic: doughnuts with garish icing, cheap watches with Madonna clock faces. A society saturated in kitsch and trash is reflected in Parr's colours, which seem to have been applied too thickly. It is aided by a stylistic device that has accompanied him for decades: the flash. He calls the effect 'kiss of light', exposing these scenarios in a merciless glow.
Is Parr an aloof misanthrope? Not at all. Rather, he is a close observer. The gaze with which he inspects the world is precise, sociological. The close-ups may seem ruthless, the framing may be discomfiting, while irony and British humour characterise Parr's photographic work. But mean or malicious? 'I love people,' he says. And you know he is genuine.

Especially for this exhibition at NRW-Forum, he shot portraits of 80 Düsseldorf hobby-gardeners in their allotments. During the opening, wearing a check shirt and Birkenstocks, he mingles with the hobby-gardeners who have come out in force. He could well be one of them.

In addition to the series Kleingärtner (Allotment Gardeners), curator Ralf Goertz chose works from Think of England (1996-2003), Luxury (1997-2011) and Common Sense (1999). The black-and-white images from Parr's debut works Bad Weather (1975-1982) are exhibited in Düsseldorf for the first time on this scale. 'My focus was on key series,' notes Goertz.
And it's in this sense that he also picked The Last Resort (1983-1986) Parr's first series of colour photographs, shot in the seaside resort of New Brighton, which marked his artistic breakthrough. The British precariat in their Sunday best enjoying the weekend and escaping from their daily grind: the reality however, consists of junk food, whining children and consumer waste. It seems as though Parr is searching for the ugly in the beautiful, but also encountering the beautiful in the ugly.

Is it okay to criticise mass tourism, the greenhouse effect and the western world's disregard for sustainability in an entertaining way? Parr thinks so. Humour keeps us from thinking about things in a one-dimensional way. What does he do with his own free time? 'I don't have any. I don't believe in leisure time,' says Parr with a short laugh. He's going to Scotland next week. He'll also be doing landscape shots there. 'This is going to be difficult for me. I don't like photographing beautiful things.'
INFORMATION

'Martin Parr Retrospective', until 10 November, NRW-Forum. nrw-forum.de; martinparr.com
ADDRESS
NRW-Forum
Ehrenhof 2
40479 Düsseldorf