Olivia Arthur on expanding photography and minimising preconceptions
'Through the lens' is our monthly series that spotlights photographers who are Wallpaper* contributors. Here we explore the vision of Magnum photographer Olivia Arthur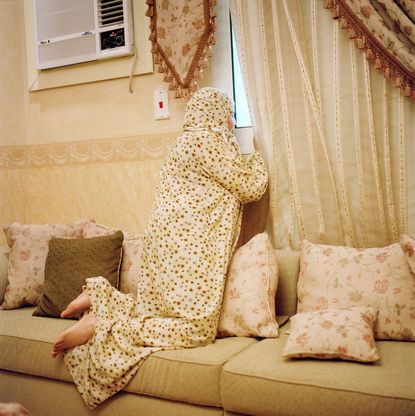 (Image credit: Olivia Arthur/Magnum Photos)
Known for emotive documentary work that illuminates the everyday realities of women's lives in countries as varied as Saudi Arabia, India and those across Europe, Magnum photographer Olivia Arthur is now turning her lens back onto the UK with a focus on large format portraiture. With a career that now spans two decades, Arthur explains 'part of the power of still photography is the ambiguousness of pictures, the ability to give a hint about a scene or event without being too absolute'. For our September 2022 issue, Arthur visited the home and studio of Bangladesh-born, London-based artist Rana Begum (opens in new tab). Here the photographer tells us more about her process.
Wallpaper*: Describe your style and process
Olivia Arthur: I work in a very simple way. I like to respond to the person or environment that I am photographing. I try not to bring too many preconceptions to a shoot and I don't have a 'shot list'. I begin by talking with my subject and explaining the idea of the shoot. I suggest a few things and try and make people feel as comfortable as possible to get the best sense of who they are. The situation normally unfolds and I find things that I couldn't have planned.
W*: Tell us about how you approached our story on Rana Begum
OA: When I went to Rana Begum's studio, she began by showing me around. As she showed me the different spaces in her studio that she works in and the pieces that were up on the walls there was a wonderful light coming in through the ceiling windows. The studio assistant and Begum started demonstrating how some of the pieces were made and how they reflect or work in the light. I was completely drawn to the light and shadows of their hands working and how the strong shapes made these incredible shadows. That became the focus of the shoot, though of course I also made some simple portraits to capture a bit of her as a person.
W*: What do you think is the most interesting thing happening within photography now?
OA: There is so much going on in photography right now that I find it very inspiring to see all the work emerging. Photographers are really pushing the medium and finding new forms of language to create with. For example, we have just opened a show in Berlin with a large group of Magnum photographers where the works include film pieces, sculptures made out of photographs, digitally generated images and many others. I am showing a series of collages that I made for a children's book so something quite different from my 'regular' work.
W*: What's on your radar?
OA: I recently became obsessed with Shirley Jackson books and the strange and engaging way that she creates her female characters in their 'ordinary' or sedate worlds. She tells us so much about the darker sides of people and communities without being overdramatic and it all feels very relevant, making us look more at ourselves. I hadn't come across her until quite recently but I'm now totally hooked and feeling shocked that she isn't better known or appreciated.
W*: What's next for you this year?
OA: I have several projects that converge around the relationship that we have with our bodies, going from sexuality and gender to technology and robotics. It all becomes a bigger project about looking for the feeling of being comfortable in one's own skin. So I'm working on pulling these all together and there will be an exhibition coming up soon in New York and I am starting to think about a book of it all. Simultaneously, I am making work about geographical borders, a part of this is a project that looks at a mountain straddling the US-Mexico border that becomes a physical border and replacement of the famous border fence. I'm interested in looking at this in contrast to our own geographical border in the UK as an island. Then there is the children's book that I am showing in Berlin and I also have some film projects on the back-burner. So it's a busy time ahead.
INFORMATION
oliviaarthur.com (opens in new tab)
Sophie is currently Photography Editor at Wallpaper*. Sophie joined the team following the completion of her photography degree in 2018, and works with Photography Director Holly Hay, where she shoots, commissions, produces, and writes on photography. Alongside this, she continues her art practice as a photographer, for which she was recently nominated for the Foam Paul Huf Award. And in recognition of her work to date, Sophie was nominated by the British Journal of Photography for the Futures photography platform in 2021.