Luke Evans: 'Usually I spend 95 per cent of the creative time overthinking'
We look through the lens of London-based photographer Luke Evans who talks of complexity, inversion, and emotive personal work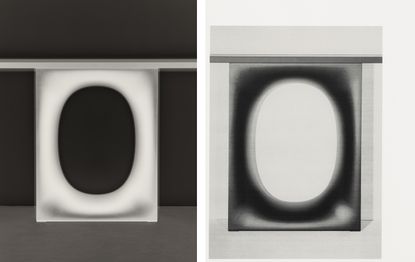 (Image credit: Luke Evans)
Wallpaper* Newsletter
Receive our daily digest of inspiration, escapism and design stories from around the world direct to your inbox
Thank you for signing up to Wallpaper. You will receive a verification email shortly.
There was a problem. Please refresh the page and try again.
Seamlessly combining scientific investigation, photography, and sculpture, artist Luke Evans experiments with physical processes and scale. For our January 2022 issue, he brought his dynamic eye to our edit of consoles.
Wallpaper*: Describe your style and process
Luke Evans: I have a pretty bipolar relationship with photography. I get frustrated with its simultaneous simplicity and endless complexity, and I think that comes across in my work. Sometimes I'll use a camera, other times I won't. There's a mix of vivid colours and some [images] with none at all. Sharp against soft, simple beside complex, digital next to film, in the studio and on location. I used to think of this as a weakness, but to hell with that.
The variety and pure curiosity about image-making is the backbone of what keeps me excited. Saying that, there are some common threads throughout; the unique sense of scale that the lens can bring, the influence of the science, and physical printing processes.
W*: Tell us about how you brought your way of working to our story on consoles
LE: This shoot was such a tonic. Usually I spend 95 per cent of the creative time overthinking, yet here I was able to work instinctively, simply responding to the shapes and textures of the pieces. Several of the images were shot with the intention of using the negative as the final image. So where we added light, we were actually adding darkness, and vice-versa. The various approaches were unified by their layout, colour, and physical printing techniques.
W*: What do you think is the most interesting thing happening within photography now?
LE: How the role of CGI and photography exist beside and interact with one another.
W*: What's on your radar?
LE: The website radio.garden, by Studio Puckey, Moniker, and the Transnational Radio Encounters project. Thousands of online radio stations are arranged geographically, letting you tune in to any local station (more or less) in the world. It's incredible.
W*: What's next for you this year?
LE: I'm finishing up a five-year project about my experience with cancer, which will be out next year. It's the most personal and important piece of work I've made to date, bringing together all my different approaches and will be both a book and exhibition.
INFORMATION
Receive our daily digest of inspiration, escapism and design stories from around the world direct to your inbox
As Photography Editor at Wallpaper*, Sophie Gladstone commissions across fashion, interiors, architecture, travel, art, entertaining, beauty & grooming, watches & jewellery, transport and technology. Gladstone also writes about and researches contemporary photography. Alongside her creative commissioning process, she continues her art practice as a photographer, for which she was recently nominated for the Foam Paul Huf Award. And in recognition of her work to date, listed by the British Journal of Photography as 'One to Watch'.
With contributions from