Low-tech to high art: Isabel + Helen 'In Orbit' at Saatchi Gallery
Down-to-earth creators with unearthly ideas: London-based creative duo Isabel + Helen present a new series of hypnotic paintings created using hand-assembled contraptions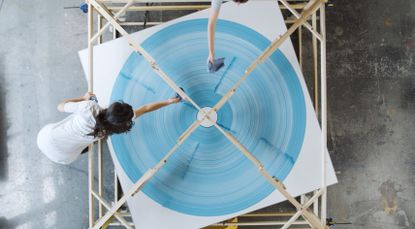 (Image credit: Jack Hems)
When it comes to the work of London-based creative duo Isabel + Helen, it's just as much about how it's produced, as what is produced.

Isabel Gibson and Helen Chesner (profiled in Wallpaper's September 2019 issue) first met while studying graphic design at London's Chelsea College of Arts, collaborating over a shared zest for analogue design processes, industrial materials and simple kinetics. Their work often makes use of basic mechanics, modified to defy gravity and expectations.

Since 2012, they have gained widespread recognition for their experimental installations and animated sculptures, collaborating with fashion brands and cultural institutions including Hermès, Selfridges, Bottega Veneta, Moncler, Craig Green, the V&A, and Tate Modern.
At Saatchi Gallery, their London show 'In Orbit' comprises a new series of hypnotic, large-scale paintings created by hand-assembled contraptions. The project began during a few quiet lockdown weeks in their south London studio, an old laundry room of a former Victorian house for 'destitute and disorderly' girls.

They began experimenting, attaching long brushes to a drill and painting onto cardboard. 'Noticing how the rotations created such accurate and rhythmic circular prints inspired us to take it further', say Isabel + Helen. 'It was the contrast of such an analogue and thrown-together method, which then created something so accurate, intricate and almost digitally made, that excited us.' The process had the flavour of child's play, but the outcome suggests something altogether more scientifically sophisticated. 'It was surprising just how much depth was created in the paintings, the thousands of lines and shades that came from the brushes, from using a single coloured paint. They are so intricate up close, almost mathematical.'
Setting up the contraption could take hours; the execution a matter of minutes. 'The satisfaction came from spending hours setting up the process. Once the switch is turned, we could then step back and wait for the painting to reveal itself to us. It was almost therapeutic and reassuring, a moment where we could relinquish all responsibility and where the paintings would create themselves.' Once the machines are activated, the artists – like the viewers – become spectators of the performance.

In the Saatchi Gallery show, the process is laid bare for all to see, the contraption itself forms a central part of the show, and an aerial-view film documents the process – a mesmerising performance in its own right. 'We loved that wherever we placed a brush on the contraption, it would start its orbit around the canvas until it ended back up where it started, completing its own circular journey'.

The work celebrates the duo's nostalgic approach to inventing: a process of tinkering with materials, embracing small imperfections and unexpected twists, and where human touch is evident, but the machine has a mind of its own. 'It was hard to stop, it became punishingly addictive, with infinite variations there was always temptation that the next one would be the better.' Isabel + Helen are two down-to-earth creators brimming with unearthly ideas. 'In Orbit' feels part art, part magic.
INFORMATION
Isabel + Helen, 'In Orbit' at Saatchi Gallery, London, until 5 September 2021. saatchigallery.com (opens in new tab)
isabelandhelen.com (opens in new tab)
Harriet Lloyd-Smith is the Arts Editor of Wallpaper*, responsible for the art pages across digital and print, including profiles, exhibition reviews, and contemporary art collaborations. She started at Wallpaper* in 2017 and has written for leading contemporary art publications, auction houses and arts charities, and lectured on review writing and art journalism. When she's not writing about art, she's making her own.