Kohei Yoshiyuki photobook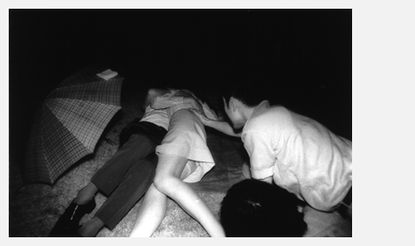 (Image credit: Kohei Yoshiyuki)
Ever wonder why they lock the park gates after dark? Photographer Kohei Yoshiyuki's night-vision images of the raunchy goings-on at three Tokyo parks during the 1970s are thoroughly fascinating in that slightly guilty, can't-look-away sort of sense, like glimpsing ghastly road crashes or inappropriate beachwear.
Click here (opens in new tab) to see more of Yoshiyuki's photos.
More interesting than the actual sex, which, after all, isn't particularly revealing, is the context, the lack of inhibition, and the extraordinary audience of reckless voyeurs gathered at each scene like excited ghosts with hungry eyes.
You can almost imagine Richard Attenborough narrating the furtive mating habits of a strange, nocturnal species known as... the human. And that, perhaps, is what makes the images so compelling. The participants are assumedly normal looking, job-going, bus-catching members of society. It's an intriguing glimpse at humanity at its most primal, and at a group of people who probably weren't expecting a cameraman.
Photos from Yoshiyuki's series 'The Park' formed part of the Yossi Milo gallery (opens in new tab)'s exhibition at the Solo Project art fair in Basel, Switzerland earlier this month. The full collection, along with the series 'Love Hotel', was recently republished in a new edition by Hatje Cantz (opens in new tab).