Keisuke Otobe on image-making like a DJ: 'Instead of scratching music, I scratch photographs'
In this month's 'through the lens' profile, Keisuke Otobe discusses democratising photography, using a photocopier as a camera, and shooting surrealist furniture for the Wallpaper* Design Awards 2022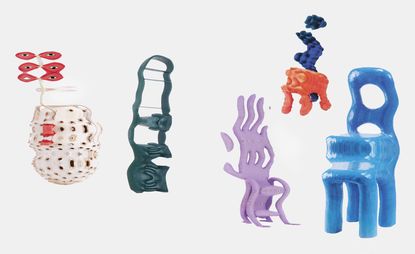 (Image credit: Keisuke Otobe)
Left to right: 'Chestnut Roaster' from LOEWE Weaves Collection, price on request, by Laia Arqueros, for LOEWE in collaboration with Sotheby's; 'Storyteller' Shelving, price on request, by Barbora Zilinskaite; 'Manu Peluda Chair', price on request, by Chris Wolston, from The Future Perfect; 'Untitled #01' Felted Merino Wool and Cedar, price on request, by Liam Lee; 'Stool Made in 643 Minutes', price on request, by Diego Faivre.
For artist Keisuke Otobe, photographs are just a starting point for his artful scanning processes. Having a flexible methodology allows Otobe to say, 'Beijing is the place where I do my research and get insights; London is my biggest challenge; Tokyo is where my future is.'
This borderless perspective was brought to life for our February 2022 Design Awards issue, in which Otobe animated five surrealist furniture pieces. Here, he talks about past and future inspirations.
Wallpaper*: Describe your style and process
Keisuke Otobe: My style is making images using a photocopier, rather than a camera. I have found different ways of doing it but the most particular way is like being a DJ; instead of scratching the music, I scratch the photograph. So having the physical object doesn't matter. I just need images.
W*: Tell us about how you brought your way of working to our story on surreal furniture pieces
KO: Cut-outs of the pieces were shared with me, which I printed in colour on normal paper. Then I worked on the photocopier. At first, I was printing on proper professional photo paper, but then I quit because, in the end, I found that the quality was better with normal paper. This way, I don't have to pay postage and customs because of Brexit, so it suits my work much better.
W*: What is the most interesting thing happening within photography now?
KO: I'm interested in how Wolfgang Tillmans' generation and the following generations will use photography. Because I think Tillmans combines all the techniques and methods of photography and continues to record them, changing their composition, editing and size as the Earth changes every day.
I am interested in the possibilities of democratised photography, just as painting further developed with the advent of photography. Will a photograph remain just a photograph? Will it remain a tool for recording and memory? The piece I am a sculptor, which I've been working on since my visit to Beijing in 2018, is one proposal:
W*: What's on your radar?
KO: Whether I know it well or not, I am mostly interested in art in a general sense, Eastern culture and thought, marketing and strategy, and the future. I am influenced by Yuval Noah Harari's books and lectures, and also in AI tech and biotech. I am interested in the future of humanity and how we are changing.
I'm also interested in the use of language, so I'm always mumbling to myself.
As a photographer, another artist who has influenced me is Man Ray. I like his experimental artwork, which is not just about photography. I also like Hiroshi Sugimoto's transformation from photographer to contemporary artist. I also love Anish Kapoor's phenomenological and poetic space, Rothko's reds and, more recently, Monet's paintings when he had cataracts and Cézanne's apples; that ability to reverse a consequent weakness.
I'm not interested in what the artists did, but how and why they did it. I believe that if science is a way of knowing the world, then art is also a way of knowing the world. I believe in the power of art. For example, Kurashiki in Japan was saved from the American bombing in the Second World War because a young local businessman bought a lot of Western art, including work by Monet, Matisse, Picasso and El Greco [housed in the Ohara Museum of Art].
W*: What's next for you this year?
KO: It would be great to be able to move more freely, learn more and more about Japanese culture and sensibility. And to keep making more and more works.
If one day I can exhibit them in a nice space, I will be happy. Until then, I'll keep my roots deep.
As for my personal life, I actually got my driving licence before Covid. So after the pandemic, I would like to travel around Europe by car with my mother, who studied Western art.
INFORMATION
Receive our daily digest of inspiration, escapism and design stories from around the world direct to your inbox
As Photography Editor at Wallpaper*, Sophie Gladstone commissions across fashion, interiors, architecture, travel, art, entertaining, beauty & grooming, watches & jewellery, transport and technology. Gladstone also writes about and researches contemporary photography. Alongside her creative commissioning process, she continues her art practice as a photographer, for which she was recently nominated for the Foam Paul Huf Award. And in recognition of her work to date, listed by the British Journal of Photography as 'One to Watch'.
With contributions from