Ori Gersht reflects on Kyoto's Zen gardens and their secret floating worlds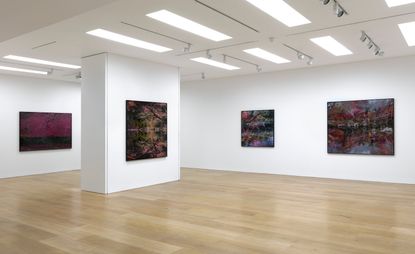 (Image credit: © Ori Gersht. Courtesy of Ben Brown Fine Arts)
Japan has long fascinated photographers – from Tokyo's futuristic architectural tapestry to awe-inspiring natural marvels (Mt Fuji springs to mind), it is a visually charged place that stirs fantasy. The latest artist to turn his lens to the curious country – more specifically, Kyoto and its ancient gardens – is Israeli photographer and 2015 Prix Pictet nominee Ori Gersht, who recently debuted his new project 'Floating World' at London gallery Ben Brown Fine Arts.

Gersht began work on the series towards the end of last year, visiting and capturing the gardens of Buddhist Zen temples in and surrounding Kyoto. He was intrigued by their inherent stillness and the preservation of history; these gardens lend a meditative escape from a turbulent modern world. 'I am fascinated by the complex and intricate relationships that the Japanese have developed with their gardens and with the landscape,' explains the photographer. 'I was drawn to the cyclical relations of these gardens with the past, present, and future, their flow of movement in contrast to its sudden photographic arrest.'

Here, Kyoto's gardens are rendered as Monet-esque landscapes as Gersht hones in on water reflections, seamlessly fusing 'reflections with the reflected world' in his photographs. Through this he explores the tension between what he dubs 'the virtual and the material', pitting illusion against reality and uncovering hidden worlds beneath the surface. 'The philosophy of these ancient gardens seems to align with my interest to reflect an essence of nature rather than its actual appearance,' he adds, 'heightening the dialectic between utopian and real places, between the imagined and reality.

But underneath the surface of these sylvan settings, something more mercurial lays in wait. Gersht explains: 'These ancient fragile gardens are resting upon volatile, unstable tectonic plates. Despite the peaceful nature, they are under constant volcanic threat. Contained within Buddhist temples they were created to reflect the essence of nature.'

This latest endeavour is an extension of a prior series from 2014, 'On Reflection', which revisits early seventeenth-century paintings by Flemish artist Jan Brueghel the Elder. 'In my work I often explore the relationships between tradition and past memories with the present, between history and contemporary life,' says Gersht. 'In doing so I try to push the technical limitations of photography, questioning its claim to truth.'

Gersht hopes to return to Kyoto to continue his investigation of these spaces. 'I believe that in this context, the description of my work by the writer David Chandler [to be] very relevant: "A meditation on the poetics of fragility, a reminded that all images are transitional. They show us nothing more – for certain – than the absence of the object of representation,"' he muses.
INFORMATION
'Floating World' runs until 16 June. For more information, visit Ben Brown Fine Arts' website (opens in new tab)
Images © Ori Gersht. Courtesy of Ben Brown Fine Arts