Into the mist: Ann Veronica Janssens fills the Wellcome Collection with a thick, multicoloured fog
Ann Veronica Janssens' latest perception-skewing installation sees an entire gallery filled with rainbow-coloured mist at the Wellcome Collection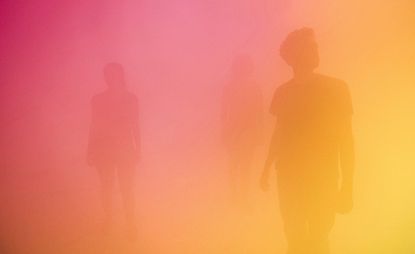 (Image credit: press)
There isn't a single object displayed at the Wellcome Collection's latest exhibtion, yellowbluepink by Ann Veronica Janssens. Instead, visitors pass quietly and slightly unsteadily, feeling their way through an empty, white gallery filled only with a dense multicoloured mist that's lit from above by yellow pink and blue strip lights. Within the space, visibility is restricted to just a few inches creating a strange sense of disorientation as shadows appear and quickly disappear back into the rainbow haze - like walking through a sunset sky.

'Janssens' work disorientates the viewer through the dissolution of normal perceptual boundaries,' says curator Emily Sargent. 'The mist appears to disintegrate the materiality of the space whilst at the same time imparting a materiality and tactility to light and colour.'

'You don't need to explain this work because it's about you and your experience within the environment,' she continues. 'You don't have to worry about what you're supposed to do because it comes naturally. It puts you in a different space, a slightly uncomfortable but beautiful and uplifting space.'

Brussels-based Janssens, who was part of the Hayward Gallery's critically-acclaimed Light Show in 2013, is known for her 'mist sculptures', which she has installed across the globe; the first being a pavilion at Neuenationalgalerie in Berlin in 2001. Speaking to Brussels' Galerie Micheline Szwajcer about the mist sculpture experience she explains, 'One's perception of time is transformed, there's a slowing down if not a suspension. It's as if one were in a slow-motion film with almost no images. All the markers have disappeared, the light illuminates nothing that could authorise our wandering.'

Janssens' Wellcome installation marks the museum's launch of 'State of Mind', a year-long exploration into the experience of human conciousness that will culminate with a major new exhibition in February next year, looking at phenomena such as synaesthesia, sleepwalking, memory loss and anaesthesia.
'Janssens' work disorientates the viewer through the dissolution of normal perceptual boundaries,' says curator Emily Sargent. 'The mist appears to disintegrate the materiality of the space whilst at the same time imparting a materiality and tactility to light and colour.'
INFORMATION
Ann Veronica Janssens' yellowbluepink runs from 15 October 2015 - 3 January 2016
ADDRESS
Wellcome Collection
183 Euston Road
London NW1 2BE
VIEW GOOGLE MAPS (opens in new tab)