'Brains: The mind as matter' at the Wellcome Collection, London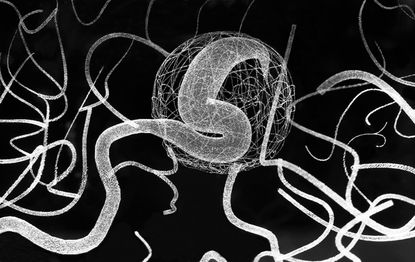 (Image credit: TBC)
Dedicated quite simply, to the brain, the Wellcome Collection's latest exhibition probes this eternally mysterious piece of human machinery, showing how it has been examined, sliced, treated, depicted and revered through time. While there is undoubtedly a scientific bone to the bulk of the exhibition, the close relationship between science and art is a core matter.
Curator Marius Kwint has picked out works by contemporary artists, who have responded to the form and physical matter of the brain in a myriad of ways. There are abstract offerings in Katharine Dowson's glass laser etchings, Susan Aldworth's watercolour series and stills from Andrew Carnie's film 'Atlas'. And there are some suprisingly (if unnervingly) rousing works exploring its physicality, such as photographer Corrine Day's pictures of herself before brain surgery, Daniel Alexander's 'Brandenburg State Hospital' photo series and Ania Dabrowska's portraits of brain donors - along with her graphic presentation of the process of dissection and surgical paraphernalia.

Thematically, the exhibition's four sections break down the way humans have used the brain in the cause of medical intervention, science, culture and technology. 'Measuring / Classifying' defines the relationship between the brain's function and form, 'Mapping / Modelling' delves into its anatomy, 'Cutting / Treating' the (at times) gory history of surgical intervention, while 'Giving / Taking' deals with the subject of brain harvesting and its purpose.
The architecture of the space, designed by Calum Storrie, is a visually striking maze, peppered with angular white columns and plinths. LucienneRoberts+'s graphic identity for the exhibition broadly references the collecting and classifying of the brain - recurring themes in the show. The colourful perspex block letter display Roberts created to illustrate the title, for instance, is a pointed nod to the traditional paraphernalia associated with scientific specimens.
ADDRESS
183 Euston Road
London NW1 2BE
Receive our daily digest of inspiration, escapism and design stories from around the world direct to your inbox