Hannah Starkey's pensive portraits are immersed in cinematic fiction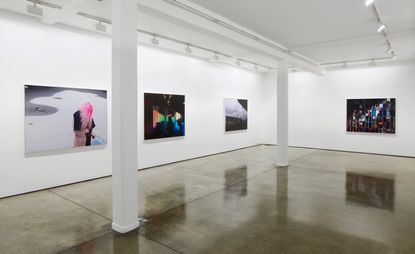 (Image credit: Maureen Paley)
Belfast-born photographer Hannah Starkey's images are poised between documentary and cinematic fiction (her American counterpart Philip-Lorca diCorcia springs to mind). For her latest (and seventh) solo exhibition at Maureen Paley, London, the artist doesn't deviate far from her formula with a collection of predominantly new photographs captured this year.

Starkey is best known for her portraits of women in solitude, honing in more recently on subjects within the confines of a city environment. Capturing intimate moments of private reflection, the London-based artist's photographs are imbued with a theatrical quality that sees her role in its making straddle that of director and voyeur.

Her interest in street photography can be traced back to a nineteenth century concept of the flâneur – or stroller, lounger, saunterer or loafer. 'The photographer is an armed version of the solitary walker reconnoitering, stalking, cruising the urban inferno, the voyeuristic stroller who discovers the city as a landscape of voluptuous extremes,' explained American writer and critic Susan Sontag in her seminal On Photography. And that sentiment is captured earnestly in Starkey's images.

In one image, a silhouette emerges against a kaleidoscopic backdrop; in another, a series of mirrors offer fragmented glimpses of the world behind Starkey. The only work that jars in this small but perfectly formed outing is the oldest: an untitled photograph from early-2013 depicting a pink-haired subject clasping an umbrella. It's a melancholic exhibition worth a moment of quiet contemplation.
INFORMATION
Hannah Starkey's exhibition runs until 24 January 2016. For more information visit the Maureen Paley website
ADDRESS
Maureen Paley
21 Herald Street
London E2 6JT