Philip-Lorca diCorcia presents 'East of Eden' at David Zwirner gallery in London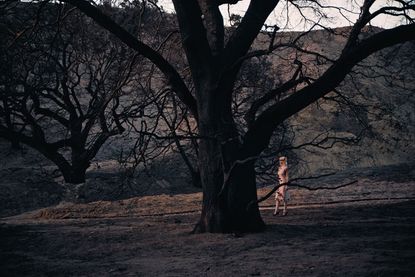 (Image credit: Philip-Lorca diCorcia)
American photographer Philip-Lorca diCorcia (opens in new tab) is known for his large tableaux in which carefully staged scenes can seem confusingly like some kind of verité. But in a show of work at David Zwirner's serene, year-old London gallery, one of the most lyrical images was created by chance.

In a mountainous landscape fit for a Thomas Cole painting (opens in new tab), save for the scarring from forest fires, a perfectly attired cowboy trotted into the shot while diCorcia was at work. The result - a lost and lonely figure in a ruined place - is just one in a series of images with themes taken from the book of Genesis and named after Steinbeck's novel 'East of Eden', where the struggle between good and evil is writ large.

DiCorcia began the project in 2008, provoked by the financial crash and the deleterious state of late Bush-era America. 'It was an oblique response,' said the photographer at the show's opening. 'But 2008 suggested a loss of innocence to me.' In one image two men grapple, one in a red T-shirt, the other in blue, while a Botticelli-esque woman observes from the door. It's called 'Cain and Abel' but equally describes the Democrat/Republican relationship in the US: it's impossible to tell whether the men are fighting or making love.

In another, a pole dancer creates a feat of wonder, in what diCorcia describes as 'a progressive strip joint' with an impressive mirrored ceiling. Succeeding in keeping hold of the pole with just her hip joint, this mystifying physical ability links her with Lilith, the woman who transforms into a serpent in the Garden of Eden. In yet another, two finely groomed white dogs watch porn in a Hamptons home. 'I rarely manipulate photographs after they are taken,' said diCorcia, 'but in this case the dogs were watching Bambi. I put in the porn later.' The RSPCA need not come out on this occasion.
ADDRESS
David Zwirner (opens in new tab)
24 Grafton Street
London W1S 4EZ
VIEW GOOGLE MAPS (opens in new tab)