Gavin Turk lights up The Bowes Museum in Durham with a new exhibition of neon artworks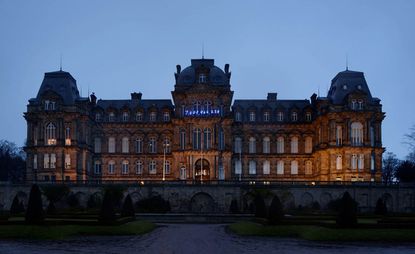 (Image credit: Gavin Turk)
Since 1995, artist Gavin Turk has been making neon sculptures, most of which have been sitting untouched in his studio. A recent invitation from The Bowes Museum spurred him into dusting them down and grouping them into an exhibition, which opened recently.

To those familiar with Turk's work, all 15 pieces represent a neon timeline of his career, pinpointing seminal moments and favourite obsessions. 'Neo Egg' continues his fascination with the egg as a symbol (opens in new tab). The artist explains, 'When I was a child, I had a magic egg that would appear in my dreams and chase away anything bad'. He has used the childhood talisman frequently, most famously in his 1997 work 'One Thousand Two Hundred and Thirty Four', in which he carved out his signature in a field of white eggshells stuck to a canvas.

Just under half the works in the show at The Bowes Museum are new. 'Port' is a series of nine half-open doors in different colours, which follows on from his bronze casts of ajar doorways. 'Star', meanwhile, is a double-sized version of the original, which hangs above the entrance to his East London studio.

Turk is best known for his appropriation of the identities and imagery of famous figures, among them Che Guevara, René Magritte, Sid Vicious and Andy Warhol. At his wedding the artist channeled Yves Klein, donning a black cape decorated with the Maltese cross (a neon version of which appears in the show), while 'Banana' references Warhol's 1967 album cover for the Velvet Underground and Nico. Works such as 'Lite' (a lit match) and 'Argon Candle' are 'visual puns, where neon light depicts an alternative form of light'.

The tongue-twisting title of the show, 'Seven Billion Two Hundred and One Million Nine Hundred and Sixty-Four Thousand and Two Hundred and Thirty Eight' is emblazoned across the façade of the country house and refers to the estimated population of the world the time the show opened. Inside, '24th January 2014' estimates the size of the global population twenty minutes later (it has increased by 2,175).

'When you enter the exhibition, it feels like something is being advertised. It's like a crazy game, or a strange children's toy,' says Turk. Its surreal slant chimes with the quirkiness of the museum itself. Devised by John and Josephine Bowes in 1852 to house their vast collection of treasures (among them Canalettos and Sevres porcelain), the museum is an incongruous architectural gems and one of County Durham's most loved cultural landmarks.
ADDRESS
The Bowes Museum (opens in new tab)
Barnard Castle
Co Durham, DL12 8NP
VIEW GOOGLE MAPS (opens in new tab)
Emma O'Kelly is a contributing editor at Wallpaper*. She joined the magazine on issue 4 as news editor and since since then has worked in full and part time roles across many editorial departments. She is a freelance journalist based in London and works for a range of titles from Condé Nast Traveller to The Telegraph. She is currently working on a book about Scandinavian sauna culture and is renovating a mid century house in the Italian Lakes.