Frieze Art Fair London 2014: the Wallpaper* edit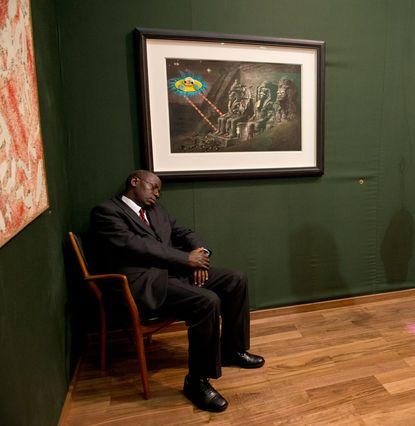 (Image credit: Linda Nylind)
The sleeping security guard is already the star of this year's edition of Frieze. He sits, we assume he sits there still, head propped against a wall of the Hauser & Wirth stand, snoozing oblivious, tweeted and Instagrammed, gone social, possibly even viral. It doesn't look like a happy sleep, or a tormented sleep or an active sleep, just a standard preparation for death sleep. Frieze can get you that way.

Visitors look at the tagged-up security guide and smile or think about a prod. Is he art or just a lazy sentinel? He is art of course - phew, no unpleasantness required then - actually Sleeping Guard by Christoph Büchel. And he is part of what is easily the most interesting and successfully conceived stand at the fair.

Curated by Mark Wallinger, a new signing for Hauser & Wirth (opens in new tab), the stand is cluttered and domestic. Titled 'A Study in Red and Green', it is a take on Sigmund Freud's study in Hampstead and greater than the sum of its Louise Bourgeois, Martin Creed, Paul McCarthy, Roni Horn, Subodh Gupta (amongst others) parts. It feels nocturnal, like the seemingly random-but-not-stops of a restless unconscious. Perhaps these are the security guard's dreams. Who knows what he has seen. There are other interesting things to look at, disorientating and random in their own way, but nothing as arresting.

Carsten Höller has created a kindergarten at the Gagosian stand. Which is nice. Cory Arcangel's carpet on the Lisson Gallery stand is a success. The gallery goes big on Arcangel's video pieces and Ryan Gander's concrete sculptures and to good effect. Thomas Dane's stand is well composed and I liked the paintings by Ella Kruglyanskaya, a New York-based Latvian, at the Gavin Brown stand which looked French and flighty and funny though no one else seemed much taken.

There is a strong showing from Brazilian galleries this year, including Galeria Luisa Strina from Sao Paulo and the excellent A Gentil Carioca from Rio. They are a welcome addition to the mix, even if most of the action is around the cluster of blue chips during the press and VIP opening (how 'V' is always hard to know. The Frieze caste system remains impenetrable.)

The experience (more of an 'assault' in the past) is also generally more civilised this year. BarberOsgerby's Universal Design Studio has designed the tent and the aisles are wide and there is more air in the air but still too few places to sit down and get your bearings. The VIPs - men in art scarves and art spectacles, tottering ladies in leopard print skirts with taut, tortured looking faces - are as worth watching as ever. And listening too.

The more abundant air is kissed, dinner arrangements made (and probably forgotten) before they wobble or glide back to their idling luxury sedans which will spend much of the rest of the day snarled and stuttering amongst other luxury sedans. While our security guard, happily or unhappily, remains oblivious.
ADDRESS
Frieze London
Regent's Park
London NW1 4PJ
VIEW GOOGLE MAPS (opens in new tab)