Artist Carsten Höller's spiralling Slide Tower joins the Vitra Campus roster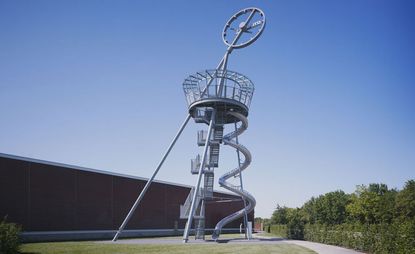 (Image credit: press)
Every few years, Vitra gives us another reason to cross the border from Basel to its 'campus' in Weil am Rhine, Germany. Since the 1980s the design manufacturer has expanded acre by acre into this small Rhine-side town, first with sculpture by Claes Oldenburg and Coosje van Bruggen, then with striking architecture and installations by Frank Gehry, Tadao Ando, SANAA, Zaha Hadid and Herzog & de Meuron.

Vitra's latest addition cements the status of this destination as a design theme park. This week the furniture company unveiled the Slide Tower by experimental Belgian artist Carsten Höller, a 30m tripod topped with a revolving clock, which doubles as a viewing platform and a particularly refined helter-skelter.

A double-flight staircase brings visitors up past a series of landings to a 17m lookout over the Swiss-German landscape. They can choose to leave the way they came, but Höller would rather they descend via the 38m sculptural corkscrew slide. A recurring element in the artist's work, the slide is, he says, 'a device for experiencing an emotional state that is a unique condition somewhere between delight and madness.' The feeling of weightlessness is, he reckons, transformative.

Höller - who previously designed the trophy for the 2010 Wallpaper* Design Awards and sat on our illustrious panel of judges - cites the French writer Roger Caillois, who described the act of sliding as 'a kind of voluptuous panic upon an otherwise lucid mind'. And any parent compelled down a playground chute with a nervous child would agree. They'd be better off at the Vitra Campus for a day - their children would thank them.
ADDRESS
Vitra Campus
Charles Eames Strasse 2
D-79576 Weil am Rhein
Germany