Mark Wallinger's 'Labyrinth' artworks for the London Underground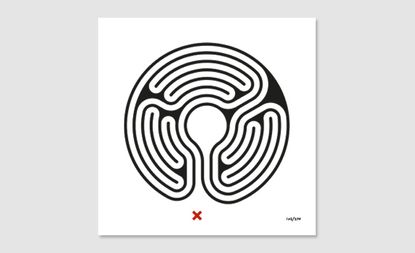 (Image credit: press)
Commuters descending into the depths of the London Underground (opens in new tab) system will be greeted by a new series of Labyrinth-inspired artworks by Turner Prize-winner Mark Wallinger (opens in new tab). But the artist isn't trying to induce claustrophobia. Look a little closer at each of the unique pieces - one for all 270 stations in the Underground's maze-like network - and you'll see that there are no dead-ends to his black and white journeys. Each one reaches its destination. It's as if he's saying: 'Don't panic - you'll get there in the end.'

Commissioned to mark the 150th anniversary of the London Underground - the artworks take an obvious visual cue from the tube map itself, designed in 1933. '[As a Londoner] the Harry Beck map (opens in new tab) does become mapped onto one's mind,' said Wallinger. His creations also bear distinctly cerebral forms. 'Each will act as a mental map, a representation of the orientation and contemplation which are the everyday experience of millions of Londoners.'

Born in Chigwell, Essex - connected to London by the giant red artery that is the Central Line - Wallinger was an apt choice for the Underground's biggest ever art commission. The Tube has been the basis of several of his works, including 'Angel' (opens in new tab), a video piece played in reverse, showing him walking backwards at Angel Station while reciting the opening lines of the Gospel of John. And the notion of a journey is a long-held preoccupation for the artist. 'I've got a thing for transport, and the act of being transported,' he says.

Wallinger's Labyrinth artworks are articulated in punchy black and white graphics, hand-printed by the same people who make the London Underground signage. 'I wanted to create works that used its heritage and graphic identity,' he told us.

The Underground's finely-honed graphic identity is largely the handiwork of Arts & Crafts calligrapher Edward Johnston (opens in new tab), whose legendary typeface was introduced in 1916. Tasked to create something of 'bold simplicity', Johnston mixed a modern sensibility with classical Roman lettering, revolutionising type design across the world.

The Tube also has a long history as a public art gallery, with one of the earliest commissions being Harold Stabler's bronze sculptures on the Piccadilly Line's ventilation grilles in the 1930s. And in 2000, the Underground established Art on the Underground, aimed at enlivening the humdrum of Londoners' daily commutes. This has seen an impressive roll call of artists create pieces for its stations, including Cindy Sherman (opens in new tab), Barbara Kruger (opens in new tab), Liam Gillick (opens in new tab), Sarah Morris (opens in new tab) and Gavin Turk (opens in new tab).

Works from Wallinger's Labyrinth series have now been installed in 10 central London stations, with the rest reaching their destinations by summertime this year. Each will be a permanent addition to London's subterranean landscape.