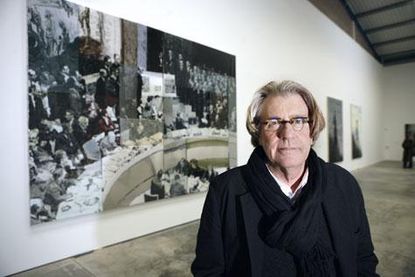 (Image credit: press)
When and why did you start buying art?
My father's wife dealt in Renaissance art but also owned a few modern British paintings – they inspired me. In the 70s and 80s I collected artists such as Lowry, Auerbach and Armitage, and in the 90s Damien Hirst's 'Freeze' show encouraged my passion for contemporary art. It's continued ever since and I now have a collection of contemporary works from all over the world.
What first attracted you to Indian art?
There are about 30 major Indian works in the collection – I've been collecting Indian art for approximately three years. What I find particularly interesting about the new art being produced outside the western mainstream is the combination of influences that stem from the recent history of western art.
What do you look for in the Indian art you collect?
I like work from India which sums up the culture but still conveys a message to me as a Westerner. Lots of the new artists from India are making work that is based on the respective history and references from their cultures, whether that's folklore or craft. That this can be done while making it relevant for someone who understands art and the aesthetic appeal of a work of art that really means something is what's so important about them and why I collect them.
Where and how do you buy it?
In galleries in India, at international art fairs and from the hands of dealers. The art market is truly global and this art is just as accessible as that from anywhere else.
Why do you think interest in Middle Eastern, Iranian, Indian and Chinese art has exploded recently?
The development of the Chinese market occurred around a handful of artists, mostly painters. There are so many other artists in China making interesting work who have been largely unaffected by the boom. I think one reason these new areas have become so popular is that everyone is constantly looking for the next thing. I know I am. I want to be ahead of the game, so that includes looking furtherafield all the time.
In ten years time will we all have Middle and/or Far Eastern art in our homes?
I don't necessarily think that it will have to take ten years time – many of my friends already have Indian, Middle and Far Eastern works. Certainly in the UK it's a growing trend. 

You're often described as the 'Saatchi of the North' – how do you feel about this?
I'm happy with that. I often speak to Charles Saatchi about art and the art world, we get on very well and see each other often enough. It's just unusual that so much attention is drawn to me being from the North when my collection is so large and on a scale as that of many other dealers. I really don't mind either way, as long as I get to do what I love doing.
In what way does it affect you not being based in London, both as a collector and a gallerist?
As a gallerist, being from the north of England, and the biggest collector of contemporary art outside London, I wanted to open a space not based in the capital. Wolverhampton is mid-way between Manchester and London, Also, West Midlands gives proximity to three prestigious art institutions: Wolverhampton Art Gallery, the Ikon Gallery in Birmingham, and the New Art Gallery Walsall. It gives the opportunity to show the collection in the context of the museums, and gives their visitors, and people in the West Midlands, access to the most important contemporary art collection outside London. As a collector, I buy work from all over the world so it has no affect.
How do you feel the art world has changed in the last decade?
The art market has accelerated and artists' careers take off much more quickly. There are a lot more international buyers. Contemporary art is now not just about America or Europe – I'm buying art from all over the world.
There's much written in the press at the moment about significant works of art either not selling at auction or fetching a fraction of their expected price, yet the art market insists it's above the economic crisis – what's your take on this?
The art world is slightly different from how it was, but in terms of the emerging markets, it makes no difference for the artists or the people who collect the work. The art world is restless and always has been. For me this comes out in being aware that you always need to be looking ahead and to new territories, so I think that in terms of buying art I am not being hugely affected. I've always had one eye on the future when I'm buying work. I see other people being more cautious, but caution is always just another way of picking out the very best.
Tell us something surprising about Frank Cohen?
I began buying rare coins when I was young and built up one of the largest collections of patterned coins in the UK. I have always been a collector and always will be.
ADDRESS
Initial Access Units 19 & 20
Calibre industrial Estate
Laches Close
(off Enterprise Drive)
Four Ahses
Wolverhampton WV10 7DZ
VIEW GOOGLE MAPS (opens in new tab)