The sky's the limit for the next generation of Foam Talent photographers
Amsterdam's Foam photography museum puts 20 young and forward-thinking artists in the spotlight for its fourth annual London showcase at Beaconsfield Gallery Vauxhall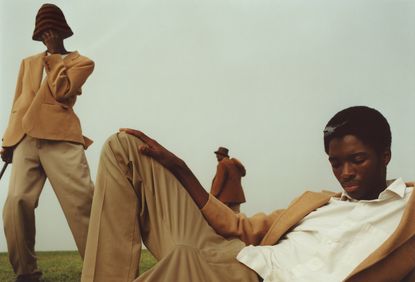 (Image credit: © The artist)
Gregory Eddi Jones photographed New York's Twin Towers in the summer of 2001. It was a tourist shot, taken on a trip to the city. A few months later, the towers were gone, but the American artist was left with his picture. 'It had a very profound effect on me and my understanding of images,' he reflects. His recent photo-collage series Flowers for Donald, is the artist's way to respond to the 2016 election, exploring the idea of spectacle, specifically through aesthetics valued by Trump.

Now, Jones is one of 20 young photographers deemed to be outstanding by Foam Magazine, included in an exhibition at Beaconsfield Gallery Vauxhall, coinciding with the opening of Photo London and running until 16 June. As Jones suggests, this year's show proves that photography now is more about the personal and political experience of spectating than ever. How do we experience imagery? What do photographs make us feel, and how do we interact with them? What kind of power can they have? It might all seem obvious in the Instagram age, but photographers working in very different environments are hyperaware of their context.
Eric Gyamfi – who in March was announced as the winner of the 2019 Foam Paul Huf Award – was selected for his 'Trojan horse-like approach'. Gyamfi has spent time with women accused of practicing witchcraft who have been forced away from their communities in his native Ghana, and queer communities lived on society's peripheries in Accra. His most recent project, Fixing Shadows; Julius and I, on show in London, is concerned, like Jones, with the evanescent quality of images in the digital age, investigating, 'what happens to the life of a photograph as it gets sited through time, through death'.

From death, to life. Despite the long stretch of artists who have contemplated both, there has been no significant art on the subject of how we come into the world. Writer and artist Carmen Winant's groundbreaking My Birth project – comprising more than 1,000 found images of births in the US – presents us with that miracle over and over again. It's the cyclical nature of life that connect us – and with wit and panache, British artist Maisie Cousins reminds us of this, by taking us on a journey towards our digestive organs.
INFORMATION
'Foam Talent' is on view from 16 May – 16 June. For more information, visit the Foam website
ADDRESS
Beaconsfield Gallery Vauxhall
22 Newport Street
London SE11 6AY
Charlotte Jansen is a journalist and the author of two books on photography, Girl on Girl (2017) and Photography Now (2021). She is commissioning editor at Elephant magazine and has written on contemporary art and culture for The Guardian, the Financial Times, ELLE, the British Journal of Photography, Frieze and Artsy. Jansen is also presenter of Dior Talks podcast series, The Female Gaze.