Fine lines: Kristine Norlander's vision of the Lassens' modernist architecture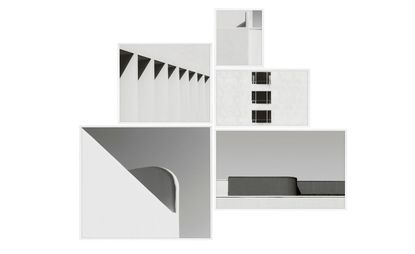 (Image credit: Kristine Norlander)
The Copenhagen-based brand By Lassen is full of historical stories. Founded by Nadia Lassen in 2008, she was inspired to start her venture with the 1962 'Kubus' candleholder design by her late great grandfather, architect Mogens Lassen. The Danish furniture company is now embracing its legacy and bringing it into present day by re-appropriating its work with a distinctly 21st century aesthetic. To wit, By Lassen has enlisted artist Kristine Norlander to produce a series of graphic photographs of its buildings, shot entirely on an iPhone, for a contemporary exploration of its architectural oeuvre.

Looking back to the 1930s and 40s, when brothers Mogens and Flemming Lassen helped pioneer architectural modernism, Norwegian photographer Norlander has applied her distinct style and technique - impactful monochrome pictures captured on her phone - to encapsulate the fine details of four of the brothers' architectural masterpieces.

In a series of photographs called Funkis - the shortened name given to architectural functionalism - she focuses on geometrical shapes, creating a story from the pair's minimalist style in shaded grey hues. In the image of Søllerød City Hall, which Flemming designed with architect Arne Jacobsen, she displays a magnified view of the multiple windows which punctuate the listed concrete building. Norlander's vision is both intimate and ominous, the windows darkened so we can only view the eerie lines of the curtains in the room.

In contrast, a lighter landscape picture was created of Mogens' single-family home in Bakkedal, Hellerup, a little north of Copenhagen. Focusing on the curvaceous quality of the Bauhaus-inspired structure, the image hones in on the edge of the building, in a darker shade of grey. Fine vertical lines are also the centrepiece of an image of an office building in western Copenhagen, on Rødovrevej, which embraces the multiple skinny archways of the white washed form, again through the use of natural shade. 'The way the light falls,' Norlander explains, 'is essential to obtaining a good image.' Much of Norlander's striking work can be located on Instagram.

The Norwegian is not the only artist to have channelled the essence of the Lassen brothers' works – Danish designer Kristina Dam has previously reinterpreted the modernist works in painting. Her alternative vision creates a story using colour, showing the entire buildings in all their robust glory.
Receive our daily digest of inspiration, escapism and design stories from around the world direct to your inbox