Dreamachine: the trippy new artwork to experience with your eyes closed
Launching in London at Woolwich Public Market on 10 May, Dreamachine is the new immersive experience created by Collective Act that brings together artists Assemble and composer Jon Hopkins. It's designed as the first artwork to be experienced with closed eyes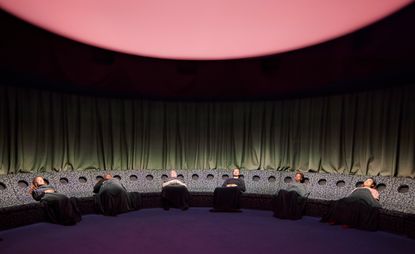 (Image credit: press)
Wallpaper* Newsletter
Receive our daily digest of inspiration, escapism and design stories from around the world direct to your inbox
Thank you for signing up to Wallpaper. You will receive a verification email shortly.
There was a problem. Please refresh the page and try again.
Part toxins-free psychedelic trip, part mass mindfulness experiment, Dreamachine is an immersive installation promising consciousness-altering spectacle.

Landing in London on 10 May 2022 at Woolwich Public Market, Dreamachine stands apart from other techtastic experiential art environments in the calibre of its collaborative creators, in its 'citizen science' element and educational outreach, and in the fact that it will definitely not be Instagrammable. Dreamachine's hallucinatory spectacle only happens inside your head.

The project was inspired by the work of artist, writer and inventor Brion Gysin (a William Burroughs acolyte) and is the brainchild of participatory art specialist Jennifer Crook, who has worked with Olafur Eliasson, Christo, Danny Boyle and Jeremy Deller, amongst others.
The origin story runs that on a sunny day in 1958, Gysin was dozing in the back of a bus, being driven along a tree-lined stretch of French countryside. That flickering forest light seems to have set off (pre-psychedelia) transcendental explosions in Gysin's brain, crashing waves of intense colours and shifting geometry.

Gysin returned home, discovered that what he had experienced was not supernatural or psychosis, but a recently categorised neurological response to flickering light of a certain frequency – known as 'stroboscopically induced visual hallucinations'. He was determined to create a small-scale device that could recreate the effect, what he called the 'first artwork to be experienced with your eyes closed'. He succeeded using a turntable, a lightbulb, and a carefully slotted cylinder. Gysin hoped his device would eventually replace the TV in every American home. Fat chance.

Crook has long been fascinated with Gysin's flickering device – she came across a book about his original 'Dream Machine', and a plan of how to assemble one, in a charity shop when she was a teenager – and the possibility of upsizing and augmenting it to create a mind-blowing communal experience.
She put together Collective Act to make that happen and immediately turned to Jon Hopkins, the DJ and composer behind the ambient techno epic Immunity, the Grammy-nominated Singularity and last year's Music for Psychedelic Therapy, to create a soundscape for the new project.

Indeed, Crook says Dreamachine was also partly inspired by the 'deep collective trance' she had witnessed at a 2014 Hopkins show at London's Royal Festival Hall. A connoisseur of the meditative and mind-altering, Hopkins quickly signed on and says he has tried to 'soundtrack the experience of people seeing inside their minds' and create a 'sonic architecture' for the Dreamachine experience.

In terms of actual architecture, Crook assigned Assemble – the Turner-prize winning architecture, design and art collective – to create a mobile structure for the new Dreamachine, what she describes as a 'secular temple or modern campfire'. (Coincidentally, Assemble's Anthony Engi Meacock did his master's thesis on Gysin's Dreamachine, so they were forearmed.)
Assemble founding member Jane Hall says the key to the design – which will seat visitors facing one another in the round – was creating a space where people would feel comfortable talking about and reliving their experiences. 'When you experience the Dreamachine, you feel like you are going through something deeply personal but with other people. And what we found during the prototyping is that even strangers want to talk about a life-changing experience.'

Hall cites the work of Olafur Eliasson and Pipilotti Rist as influences on the design which, she says, 'brings texture and colour and a sense of intimacy without prescribing what you are going to see, because the event is in your head'. Having spent time with their prototype Dreamachine, both Hopkins and Hall are aware of how discombobulating the experience can be and saw creating an experiential safe space as key to their mission. 'It will be very strange for some people,' says Hopkins, 'so I wanted to create a form and structure to the experience, a kind of narrative arc but also to create a feeling of grounding and comfort, give people a sense that they can be free to explore their minds in a safe way.'

A key advisor on the Dreamachine project is star neuroscientist Anil Seth, whose 2021 book Being You: A New Science of Consciousness was ecstatically reviewed and recommended in all the right places. Seth suggests that the Dreamachine's flickering light interacts with the brain's natural rhythms to create its inner vision. 'It's almost as if the brain is looking at itself,' he says. And, picking up on Gysin's original ambition, Seth hopes the experiment will help pull people away from their screens, at least some of the time, and ask them to think about the nature of experience. 'I think we're allowing people to recognise the power of their own minds and brains to generate their perceptual world.'
As the Dreamachine goes on its magical mystery tour, everyone will be invited to take part in what Collective Act has tagged the 'Perception Census', a mass survey of the nation's mental inner workings. Seth argues that the census is a unique opportunity to survey what he calls 'perceptual diversity'. 'The way we experience the world is slightly different for each of us,' he says, 'but we know very little about this perceptual diversity. And the intuition among scientists and philosophers is that there's a lot of diversity that we don't see because it's papered over by the language that we use. I think that when we understand that we do see the world slightly differently, it will allow us to talk past each other less.'

Dreamachine, one of the projects commissioned as part of the Unboxed programme of events, is also being backed by a UK-wide schools' programme developed by A New Direction, a not-for-profit dedicated to promoting creativity amongst young people that partnered with Steve McQueen on his massive year 'Year 3' project, which began in 2019.

The starry list of Dreamachine collaborators further includes cognitive neuroscientist David Schwartzman, philosopher Fiona Macpherson, technical director and previously associate director at Random International Dev Joshi, sound designer Christopher Shutt, and creative technology studio Holition.
INFORMATION
Dreamachine will launch in London (10 May-24 July 2022) before travelling to Cardiff (12 May-18 June), Belfast (25 July-4 September) and Edinburgh (13 August - 25 September). Admission is free. dreamachine.world. unboxed2022.uk
Receive our daily digest of inspiration, escapism and design stories from around the world direct to your inbox