The domestic dreamscapes of Pipilotti Rist
For her first major solo exhibition in Scandinavia, the Swiss artist transforms Denmark's Louisiana Museum of Modern Art with immersive installations, textile works, and radiant video projections designed as a homelike environment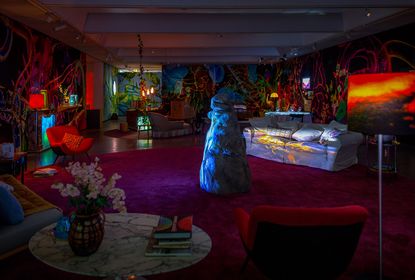 (Image credit: Poul Buchard / Brøndum & Co)
The work of Pipilotti Rist is imbued with idiosyncratic humour. That much is obvious from her pseudonym, a portmanteau of the Swedish children's book character Pippi Longstocking, as well as the Japanese electrician's jackets that she favours (she sports a canary yellow one as she tours us around her recent show), and of course, the now-iconic self portrait that shows her flattening her face against a pane of glass, her bright red lipstick smeared along one cheek. And true to form, her first solo exhibition in Scandinavia, titled 'Open My Glade', presents a brilliant bundle of eccentricities.

Taking place at Denmark's Louisiana Museum of Modern Art, which had been a nobleman's country house before its modernist additions and its transformation into a cultural hub, the exhibition feels eerily like home. Rist speaks of the museum as a 'collective living room', and has taken advantage of the museum's low-slung architecture and warm material palette to create an inviting environment, starting from the tactile fabrics that line the entrance hallway, to the soft furnishings that viewers are welcome to clamber over, all the way to the show's final room, which is quite literally presented as an apartment space, albeit overlaid with all manner of fantastic projections.
Rist's greatest hits are all on view – the early video Ever Is Over All, showing a woman gleefully skipping down a street while she clobbers multiple cars with a long-stemmed flower; an outdoor installation of Hiplights (or Englightened Hips), comprising laundry lines of illuminated underwear; Pixel Forest, an immersive matrix of crystalline lights, simulating the experience of existing within an LED screen; and the famed 4th Floor to Mildness, which invites us to lie down and gaze at an oddly mesmerising video projection, showing the muddy depths of a river outside Zurich.

There's a dash of confident rebellion, clever references to social themes and Rist's typically dreamy staging, but more importantly, there's a deeper meditation on what it means to see. Working in perfect tandem are the unusual angles at which Rist films her video works, the equally unusual objects on which they are projected, and the somewhat transgressive situations in which we have to put themselves (lounging in bed alongside a stranger, for instance) to fully appreciate them. 'The eyes are blood-driven cameras', the artist has often said. And by dragging us along fields of tulips, through murky waters and into digital dimensions, she puts the limits of these cameras to the test.
The show includes two new works. A circular video of everyday scenes is projected on a ceramic artwork by the great 20th-century Danish artist Asger Jorn, who features prominently in Louisiana's permanent collections. It references Jorn's habit of painting over artworks gathered from flea markets, and its title, Come In, Come On [Jorn caressed by Rist] is itself a poetic homage. This occupies a corner of the large space at the top of Louisiana's South Wing, whose walls have been clad with the other new work, Reversed Eyelid.

For this installation, Rist worked with Kvadrat to adapt the Danish textile manufacturer's 'Soft Cells' acoustic panels, here custom made with a vibrant, visceral motif that depicts the inside of our eyelids, offering a microscopic view of the human body and again compelling us to marvel at the gift of sight. Within the darkened space, the 54m long installation doesn't exactly jump for attention. But it pushes the boundaries of design collaboration in the right ways – and ties in perfectly with the theme of home, both bodily and domestic.
INFORMATION
'Pipilotti Rist: Open My Glade' is on view until 22 September. For more information, visit the Louisiana Museum of Modern Art website (opens in new tab), Pipilotti Rist website (opens in new tab), and Kvadrat website (opens in new tab)
ADDRESS
Louisiana Museum of Modern Art
Gammel Strandvej 13
Humlebæk
TF has been editor of Wallpaper* since December 2020. He is responsible for our monthly print magazine, planning, commissioning, editing and writing long-lead content across all our content pillars. He also plays a leading role in multi-channel editorial franchises, such as our annual Design Awards, Guest Editor takeovers and Next Generation series. He aims to create world-class, visually-driven content while championing diversity, international representation and social impact. TF joined Wallpaper* as an intern in January 2013, and served as its commissioning editor from 2017-20, winning a 30 under 30 New Talent Award from the Professional Publishers' Association. Born and raised in Hong Kong, he holds an undergraduate degree in history from Princeton University.