Child's play: Daniel Buren showcases his new installation at the Museo Espacio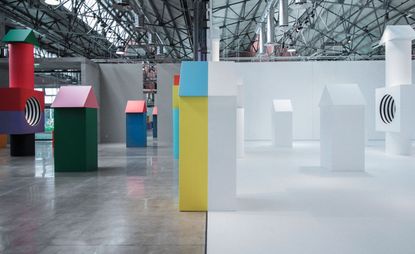 (Image credit: Beto Gutierrez.)
When the French abstract minimalist artist Daniel Buren – aka 'the stripe guy' – first discovered the murals of Mexican social realist painters David Alfaro Siqueiros, José Clemente Orozco and Diego Rivera during his maiden voyage to the country in 1957, he says, 'I discovered that I was not only seeing something totally different from the school of Paris and nearly the entire century before, but that the artists were extremely aggressive against the school of Paris.' Intrigued by this position – especially considering Siqueiros and Rivera also worked in Paris and still chose to the highlight the discrepancies between the French people and the bourgeois message of their country's artists — Buren says he became 'more open to everything'.
'When the Mexican revolution took place, [the muralists] wanted to take part, and they invented a way to speak to the people – most of whom could not read or write,' adds Buren. 'This explains why their work is extremely instructive, extremely descriptive. One of the fantastic aspects of their work was that it was done for the site, which meant they were created for the public, for the architecture, and for a certain reason – and so, the works were not transportable.'
Even if he wasn't totally sold on the muralist aesthetics, Buren was moved by the meaning behind the work, and how it offered a platform – or model – for successfully injecting provocative art into non-traditional contexts. During the late 1960s and early 70s he took on the roll of a street artist with his iconic strip motif: pasting striped posters (or affichages sauvages) around the Metro stations of Paris, striping Los Angeles bus benches and hanging small striped canvases between buildings in Lower Manhattan. Off the streets, he famously dropped his stripe motif into a rotunda-dividing painting at the Guggenheim and on the controversial Buren's Columns dotting the courtyard of the Palais Royal. More recently, Buren has lent his aesthetic to high-wattage institutions: covering Frank Gehry's 'glass sails' with multicoloured filters at Fondation Louis Vuitton – which the artist likens to 'colouring a wall' – and installing his Como un juego de niño at the new Museo Espacio, a contemporary art museum carved out of a series of former railway workshops in Aguascalientes, Mexico.
'This exhibition is typical of the work that I've been doing since the mid-70s, like Exploded Cabins, playing with the concept that a certain work is done with elements that belong to a specific space,' says Buren of his sprawling mise-en-scene of large scale toy sculptures, which were previously exhibited at the Museum of Modern and Contemporary Arts in Strasbourg and the Museo MADRE in Naples. Comprised of giant wooden cylinders, cubes, arches – half painted white, half in primary colours – the chromatic architecture is punctuated by series of his striped bands, which meld minimalism and op art in a manner that might appeal equally to fans of KidKraft blocks and Victor Vasarely paintings.
To address the enormity of the space, Buren created an installation that is 'more generous, more open', he says. 'While using the same elements, we get much closer to the feeling of a village, a place where everyone can walk and turn around, discover a new perspective. I played with the abstract qualities of the space and the universal aspect of the objects – toys exist everywhere in the world – knowing that the objects change the space and are in turn being changed by the space.'
The work is a sprawling mise-en-scene of scaled up toy sculptures, giant wooden cylinders, cubes and arches painted half in black and white and half in primary colours
The exhibition is typical of his work, that plays with site-specifity. To address the enormity of the space, Buren created an installation that is 'more generous, more open'
The chromatic architecture is punctuated by series of his striped bands, which meld minimalism and op art in a manner that might appeal equally to fans of KidKraft blocks and Victor Vasarely's painting
The installation was previously exhibited at the Museum of Modern and Contemporary Arts in Strasbourg and the Museo MADRE in Naples. 'While using the same elements,' he says, 'we get much closer to the feeling of a village'
'I played with the abstract qualities of the space and the universal aspect of the objects – toys exist everywhere in the world – knowing that the objects change the space and are in turn being changed by the space,' Buren explains
INFORMATION
'Daniel Buren: Como un juego de niño' is on view until 2 October. For more information, visit the Museo Espacio website (opens in new tab)
ADDRESS
Museo Espacio
Av. Gómez Morín S/N Colonia Ferronales
Aguascalientes
Photography: Beto Gutierrez. Courtesy of Museo Espacio