Censor and sensibility: Contemporary Istanbul courts controversy at its 11th edition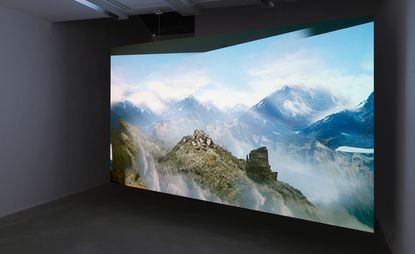 (Image credit: Persijn Broersen and Margit Lukács)
The 11th edition of Contemporary Istanbul kicked off last month and by some measures, it's impressive that it even went ahead at all. Amid a wave of fair cancellations – with casualties including Art International and the 5th International Çanakkale Biennial – and a suffocating climate of political uncertainty stifling a flagging market, there was understandable speculation that the event would be called off.

To the credit of the organisers, galleries and artists, the fair went ahead in a palpable show of solidarity, and the city was treated to four days of contemporary art from local galleries as well as those from afar, all held in the city's cavernous ICEC and ICC convention centres. While exhibitors came from across several continents, the event's regional focus was faithfully represented in an Istanbul-centric collection of galleries including strong showings from the likes of Pi artworks and Dirimart, while New York's Marlborough staged a solo show for Turkish artist Ahmet Güneştekin, whose elaborate Anatolian skulls were the fair's unequivocal favourite on social media.
Further afield, the Shanghai-based Australia China Art Foundation elegantly displayed ink works by Chinese new wave artist Song Ling, whose stark monochrome ink diptychs stood in stark contrast with Ling Jian's hyperreal and exaggerated feminine portraits. Artist Jaume Plensa's spatially distorted sculpture of a head, entitled White Forest, drew onlookers to Paris-based Galerie Lelong's stand – of little surprise, given that it was later revealed to have sold for a fee in excess of €250,000, one of the fair's largest sales.

Interestingly, the organisers put together a new event for this year's fair dubbed Collectors' Stories, in which 60 prominent collectors chose two works each to display, each accompanied by a short text. While this was an excellent opportunity to build a narrative of Istanbul's oft-turbulent relationship with contemporary and post-war art, the execution left much to be desired, with technicians allocated only two days to start and finish. Unfinished displays marred the works, with the overall effect more self congratulatory than explanatory. However, as programme director Marcus Graf pointed out, it was nevertheless an opportunity to catch a glimpse into the tastes of Turkish collectors.
The political subtext of the fair's existence was rudely brought back into focus when protesters stormed the stand of Chilean dealer Isabel Croxatto to demand that a sculpture by Ali Elmaci, depicting a woman in a bikini with a portrait of the last Ottoman Sultan painted on her midriff, be removed (it was). Along with a car bomb attack on the second day of the fair, in the district of Diyarbakır, the reminder of most Istanbulites' everyday reality was never far away during the event.

When asked about the subject of artist censorship, chairman Ali Gureli answered: 'There's no reason to fear. Do what you want, you may get into jail,' he said, before continuing. 'This is a choice, and you may be put in jail because of what you've done, and it's totally wrong. There is this environment, there is this situation – it's a reality. But when I look at the artists, I don't think there's a fear.'
While there are still questions surrounding the selection process for this year's fair, most agree that the fair's existence this year was a credit to the city and a minor miracle of organisational will. Gureli wants the fair to be the biggest player in a region he defines as central Asia, the Middle East and Caucasus, even creeping towards Moscow and Italy. Next year's event will be pushed back to September to coincide with the Istanbul Biennial, to form a larger Istanbul Art Week. Depending on the country's political climate – and with Elmgreen & Dragset preparing to curate next year's Biennial – he and his team will need to be at their best.
INFORMATION
For more information, visit the Contemporary Istanbul website