Turin's experimental art fair Artissima breaks traditional moulds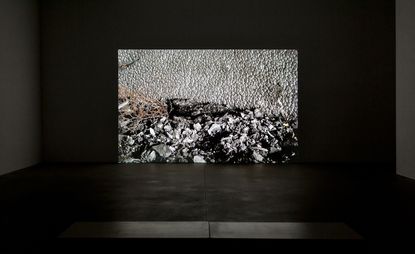 (Image credit: TBC)
Most of the art at fairs will end up in one place these days: the online image depot of Instagram. Contemporary photography and sculpture share a long interest in the limits and likeness between two and three dimensions – and never has this seemed more relevant to our world than today.

We're all self-conscious about how much we flatten experiences with an iPhone, but at Artissima — Turin's experimental art fair — sculpture and photography have a prominent place, and works reflect the tensions in our world between being flat or tactile, distant or present.
For Goran Trbuljak, a major figure of Yugoslavia's conceptual art movement who creates 'studies for sculptures' in his more recent photographs, there are tensions between objects inside the image: two teapots face each other, spout to spout. For others, the challenge is trying to make objects – and their viewers – really stand still. Alejandro Almanza Pereda, presented across the fair at ChertLüdde's booth and by Curro gallery, plays with perception by shooting still lifes underwater, where the objects' identities are obscured unless you stay and stare a while.

Georgian-born, Geneva-based Koka Ramishvili has been making art for decades but only dedicated himself to photography last year. He choreographs plants into whimsical 'moving still lifes', that see photographs not as representations of reality but as a way of creating a new one. Still life, meanwhile, has a sensual charm in Jay DeFeo's pneumatic photographs of rock and mud formations, which hint not only at what's there, but what's missing. If anything broke in her house, the artist preferred not to clean up, because she liked the shapes the breakages made.
Elsewhere, Felix Schramm – presented by Milan-based gallery Ribot for its first appearance at an art fair – punctures empty spaces with wax, resin and plaster. Responding to a site's architecture and empty space, Schramm turns entire locations – art fair booths, galleries, museums – into dramatic sculptures, where surfaces are burst or ripped open and new dimensions are created. They're often so site-specific that when the walls come down, the work is destroyed.

Artissima's director for the fifth year running, Sarah Cosulich, encourages galleries to 'take risks in their presentations'. This experimental edge is, she says, what gives the fair its 'anticipating gaze'. 'It's wonderful to watch so much discussion,' Cosulich says, as someone leans in to kiss her on the cheek. At Artissima it seems the stakes are higher than cash. And most of the art works won't end up on Instagram, at least right away – the fair was, remarkably, completely WiFi free.
INFORMATION
For more information, visit the Artissima website
Receive our daily digest of inspiration, escapism and design stories from around the world direct to your inbox
Charlotte Jansen is a journalist and the author of two books on photography, Girl on Girl (2017) and Photography Now (2021). She is commissioning editor at Elephant magazine and has written on contemporary art and culture for The Guardian, the Financial Times, ELLE, the British Journal of Photography, Frieze and Artsy. Jansen is also presenter of Dior Talks podcast series, The Female Gaze.