17th Istanbul Biennial review: truth to power and food for thought
The 17th Istanbul Biennial sees more than 500 contributors tackle the economic, political, social and ecological issues consuming our planet, from artistic censorship to urbanisation, fractured political systems to shrinking civic spaces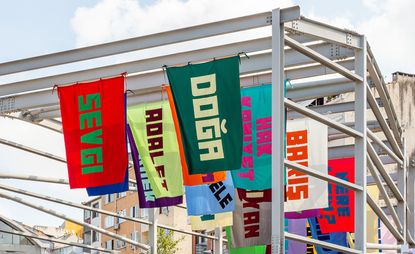 (Image credit: Sahir Ugur Eren)
Istanbul is a city like no other. Stradling two continents, it has been the capital of two empires and is home to two distinct identities – one youthful and liberal, the other conservative and traditional – simmering against the backdrop of a turbulent eco-political climate. Throw in the enduring impact of Covid-19 on the artistic community, and the stage is set for a fascinating moment of public contemporary art as the 17th Istanbul Biennial opens (until 20 November 2022).
'We began working on the biennial amidst a spiralling health crisis and were very conscious that many artists were focused on solving the economic, political, social and ecological problems plaguing our planet, many of which were heightened by the pandemic,' said David Teh, one of the exhibition's three curators at the press conference. 'It seemed natural to us that the biennial should support and amplify those efforts.'
Dispersing the 50 or so projects by the 500-plus contributors, including artists, researchers, architects, fishermen and ecologists, across the city was a way of doing just that. There are 12 exhibition venues as well as a wealth of satellite spaces ranging from second-hand bookshops to cafés and metro stops, all of which reflect different aspects of city life.
The scattered layout also encourages visitors to discover the city and its multi-layered narratives in new ways. The freshly restored 16th-century Çinili Hamam, for instance, has opened its doors to the public for the first time in 12 years, ahead of its inauguration as a hammam-museum complex in 2023. Other storied newcomers include the Zeytinburnu Medicinal Plants Garden and Barin Han, the former atelier of Turkey's leading calligrapher and bookbinder Emin Barin.
'After periods of extended isolation, we wanted to bring people from different communities together to connect and reflect on the way that art can help us do things differently in future,' says Istanbul Biennial director Bige Örer. 'We hope to stimulate conversations that will last beyond the Biennial and positively transform those that have them.'
This collaborative spirit is underlined by the great number of long-term research projects by artist collectives carrying out transformative work in their local communities, as well as the extensive public programme of events, workshops, guided tours, and poetry readings courtesy of the Poetry Channel. Radyo Bienal, meanwhile, celebrates the diversity of biennial participants through its 25-episode weekly programme and English podcast series.
While there is no single title this year – a nod to the fractured artistic response to the pandemic – there is a clear focus on process rather than production, with the curators describing the biennial as a form of compost, primed for the dissemination of all manner of ideas and conversations. Örer uses the metaphor of a newspaper when we speak: 'Biennial participants are bringing us news from all around the world,' she says. 'It can be difficult to speak the truth, so we wanted to find new ways of spreading it for those that do.'
This feels especially pertinent in Turkey right now, with its autocratic government and recent history of artistic censorship. When asked how the current political climate has shaped the biennial's programming, Örer answered: 'Artists find inspiring ways of expressing themselves so that they don't become victims of the system.'
The Dumpling Post is a case in point. The free biennial publication from Istanbul's Hrant Dink Foundation (HDF) was conceived following the government's ban on the foundation's 2019 conference in Kayseri exploring the social, economic, political and cultural changes in the city. Instead of capitulating, the HDF staged a festival around the region's most famous dish: dumplings. More than 500 people attended not only to eat and make dumplings but also to stand in solidarity against the restrictions imposed. Scattered around the biennial, the Dumpling Post continues HDF's fight against censorship, prohibitions and the shrinking of the civic space.
With no unifying theme, however, this sprawling showcase can feel somewhat disparate at times, especially in historic venues like the Pera Museum, which is jam-packed with archival projects that lurch between such diverse subjects as the feminist movement in Nepal and the anti-colonial guerrilla war waged in British Malaya. The avalanche of information displayed in web-like networks on two of the three floors feels overwhelming and the visual impact underwhelming. Still, there are some wonders to behold on the top floor, notably Alice Miceli's photographic works documenting the continuing and traumatic impact of lethal mine-contaminated sites in Cambodia and Bosnia.
Also noteworthy is Wallowland, a collaborative research project conceived by the artist duo Cooking Sections that aims to raise awareness around water buffalo herding practices as well as the water buffalo and wetlands around Istanbul under threat from urbanisation. Their biennial presentation at Büyükdere35 takes the form of a shop, serving tasty Turkish puddings made with Buffalo milk, soundtracked by traditional Buffalo songs.
Inside the cavernous main room of the Küçük Mustafa Pasa Hammam, meanwhile, is Tarek Atoui's Whispering Playground, an assemblage of found objects that conduct and amplify sounds, including compositions from Istanbul's working harbours. Conceived in collaboration with instrument makers and sound recordists, it reveals how sound can be manipulated and accessed in multisensory ways, including by sight and touch.
Over on the Asian side at the Müze Gazahane is the latest iteration of Arahmaiani's ongoing Flag Project. During performances, brightly coloured flags featuring communally identified Turkish words such as sevgi (love) are waved by the participants in choreographed processions. Another notable highlight is a presentation from The Silent University, a knowledge exchange platform by and for refugees, asylum seekers and migrants, documenting ongoing work on a new branch of the platform in Turkey. Nearby in Arthereistanbul are three captivating video works by Lida Abdul exploring the consequences of war, destruction and displacement in her home country of Afghanistan.
Not surprisingly, there is a lot to digest, which is why the curators urge you to take your time, mull it all over and talk about it. 'These projects are the result of a huge sometimes risky decision to make sense of a particular moment and do something about it,' says curator Amar Kanwar. 'Skip the need for a precise "ah-ha" kind of moment and connect with them as stimulants for change.' And it's as this sinks in that this most disparate Istanbul Biennial conversely comes together.
INFORMATION
The 17th Istanbul Biennial runs until 20 November 2022. bienal.iksv.org
Receive our daily digest of inspiration, escapism and design stories from around the world direct to your inbox