Amsterdam Art Weekend proves the city's creative cache is as rock-solid as ever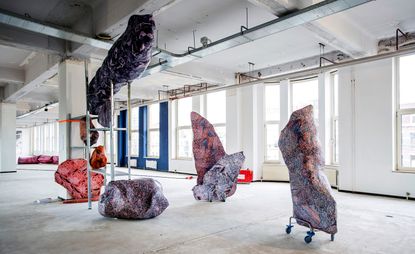 (Image credit: press)
A weekend is certainly not enough to see what Amsterdam, a city deeply committed to art and creativity, has to offer. The last weekend of November marked the fifth edition of Amsterdam Art Weekend, which featured more than 50 official participants and many more satellite pop-ups around the capital.

The epicentre and one of the highlights was undoubtedly the RijksakademieOPEN, which opens the door of its resident artist studios for only two days in the year for people to discover art trends and ideas. This year's refreshing and upbeat dynamic included German video-artist Funda Gül Özcan's Time to Say Hello at the East Pole (2016), a diorama-like multi-media sculptural installation that works as a display for a visual poem; Pakistani artist Basir Mahmood's simple but captivating video Monument of Arrival and Return (2016) observes and documents a fading history and culture.
'Sweater Portrait' by Jasper Hagenaar, 2016, at Ornis A Gallery
The city's progressive and liberal reputation is evidenced by its many museums. Stedelijk Museum Amsterdam challenged viewers with Jordan Wolfson's solo exhibition, 'Manic / Love / Truth / Love'. The American artist's cross-media work revolves around sex and violence; his latest animatronic artwork Colored Sculpture (2016), whereby a chained, computer programmed robot is dangled from a steel gantry before brutally crashing to the floor guaranteed an unsettling experience. Also courting controversy was Melanie Bonajo, who showed at photography museum Foam. Her trilogy of semi-documentary films Night Soil contests the progress of capitalism and moves beyond the accepted cultural norms, exploring often illegal themes.

Tucked away was the roving art biennial Manifesta's fetching headquarters on Herengracht. In the historical grand canal house, the foundation hosted its bi-annual exhibition curated by Annet Gelink Gallery. The site-specific curation, 'Theatre Dreams of a Beautiful Afternoon – Part 2', spread throughout the building and garden, showcased nine artists' works, including Barbara Visser's large woven tapestry Baroque Ceiling (2013) and Israeli artist Yael Bartana's neon We Shall be Strong in our Weakness (2012), both reflecting the history of the building and the location.
A pop-up exhibition, 'Collectors View', curated by Fons Welters (of Galerie Fons Welters) and Laurie Cluitmans and held in the former diamond exchange building, showed works taken from six Dutch private collections. From left, 'Ex Futuro' by Florian & Michael Quistrebert, 2010; and 'Sleeping Moon' by Mike Pratt, 2015. Photography: Ernst van Deursen
Considered to be one of the founders of Dutch conceptual art, Marinus Boezem – who is known for his fascination with Gothic architectural symbolism – took centre stage at the city's oldest building, the 800-year-old Oude Kerk ('old church'). Adding to the majestic structure were his new site-specific works including Labyrinth (2016), an installation of semi-transparent cloth that created a labyrinth mimicking the never-ending human search for transcendence. In the heart of the church was Into the Air (2016), a construction lift bringing viewers to the height of 15 metres for a change of perspective – and where they could find a personal message from the artist.
The city's mastery in repurposed architecture was also strongly represented; the latest revamped building to be unveiled will be the Diamantbeurs, originally constructed in the 1910s. The art nouveau monument is currently being transformed into creative hub Capital C, yet it hosted two pop-up art shows to coincide with the art weekend. BIG ART, a new platform created by Anne van der Zwaag (founder of Object Rotterdam), showcased a collection of outsized artworks by both acclaimed names and young blood – Gerrit Rietveld Academie graduate Lillian Vlaun's 12º32'19.7"N 70º3'47.5"WE (2016) used papier mâché to resemble the breakwater of artificial stones on the beach in Aruba where she was born, scrutinising the tension between nature and culture.
Also in the Manifesta Foundation was Israeli artist Yael Bartana's neon 'We Shall be Strong in our Weakness', 2012, a reference to her film, 'Zamach (Assassination)', in which she explores themes on difficulties of living in a politically and socially split world
Occupying the grand hall on the ground floor, 'Collectors View' showcased some 50 works from 35 artists from six independent Dutch private collections patronising the local art scene. The choice of works was somehow 'daring' – and even unliveable with, someone might say. In Communion of Goods (2016) by Sema Bekirovic is an installation of loops of compressor copper tubes covered in ice; Sarah van Sonsbeeck's One Cubic Meter of Broken Silence (2009-2010) was quite iterally one cubic metre of broken glass.
Painting showed it was still going strong in the Dutch art scene. Borzo Gallery presented a new series of works from painter Koen Vermeule titled Soul Shades, which he made during his recent residency near Vincent van Gogh's birthplace in Brabant as an examination of his relationship with this famous 19th century forerunner. Pictured, Yume no Uchi by Koen Vermeule, 2016
Dutch artist Melanie Bonajo, who lives and works in Amsterdam and New York, has been working on a trilogy of semi-documentary films, Night Soil, which explores themes – mostly illegal – outside sociological and political norms. Her three video works were presented at FOAM. Pictured, still from Night Soil Economy of Love, 2015.
In the Manifesta Foundation's group exhibition 'Theatre Dreams of a Beautiful Afternoon – Part 2', presented by Annet Gelink Gallery, Barbara Visser's large woven tapestry Baroque Ceiling, 2013, would have been perfectly at home when the traditional Herengracht canal house venue was first built. In the corner is a marble sculpture by Greek artist Antonis Pittas
Marinus Boezem's new site-specific works were presented in Oude Kerk, the oldest building in Amsterdam. Known for his levity, in Labyrinth, 2016, he created a vertical cloth maze, in which visitors disappear and reappear and can imagine a temporary escape from their earthly existence.
The Rijksakademie offers residencies to some 50 artists a year, with no set programme, style or ideology. The RijksakademieOPEN presented Time to Say Hello at the East Pole, 2016, by Funda Gül Özcan. The German video-artist defies logic and here, using videos connected to sculptures and miniatures, she challenges the viewer to experience something simultaneously familiar yet unknown
Artist Jonathan van Doornum at RijksakademieOPEN takes his inspiration from religious symbolism. He works with sewn and bonded MDF as well as chipboard, and more recently epoxy clay, to make base architectural elements as representations of faith.
The Stedelijk Museum is holding an exhibition by American artist Jordan Wolfson, who is at the forefront of a generation of artists exploring digitalisation and other new technologies. Here, unsettling robotic human figures (pictured, Colored Sculpture, 2016) interact with viewers using motion-sensor technology. Courtesy of Jordan Wolfson, Sadie Coles HQ London and David Zwirner Gallery
INFORMATION
For more information, visit the Amsterdam Art Weekend website (opens in new tab)
Yoko Choy is the China editor at Wallpaper* magazine, where she has contributed for over a decade. Her work has also been featured in numerous Chinese and international publications. As a creative and communications consultant, Yoko has worked with renowned institutions such as Art Basel and Beijing Design Week, as well as brands such as Hermès and Assouline. With dual bases in Hong Kong and Amsterdam, Yoko is an active participant in design awards judging panels and conferences, where she shares her mission of promoting cross-cultural exchange and translating insights from both the Eastern and Western worlds into a common creative language. Yoko is currently working on several exciting projects, including a sustainable lifestyle concept and a book on Chinese contemporary design.