The photographers shaping the way we see modern civilisation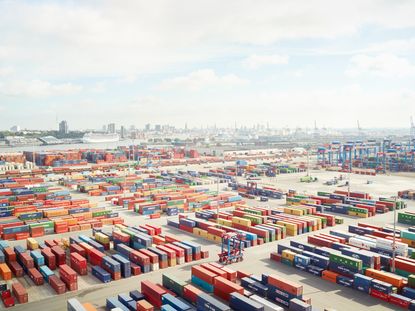 (Image credit: TBC)
Civilisation: the latest behemoth subject to be tackled by Thames & Hudson. No mean feat for a publishing house that has already this year investigated a photographic history of China, and a wedge-like history of space exploration. Big subjects, it seems, are popular coffee table-toppers of late. Part a Who's Who handbook for the photographically astute, part documentary of everything, Civilization: The Way We Live Now is as epic as it sounds (in the traditional sense of the word). The 352 pages zing with 500 photographs, many previously unpublished, from 140 leading photographers from far-flung corners.

Few have successfully attempted a photography project with such scope since Edward Steichen's 1955 MoMA exhibition. 'Family of Man' brought together hundreds of images by photographers working around the world in a forthright declaration of global solidarity in the decade following the Second World War. 'Since then, curators have been less at ease with sweeping overviews,' write Todd Brandow and Bartomeu Marí in the foreword of Civilization. Perhaps we've become too detail-obsessed in our minutiae-focused, Google-everything world; too divided and oppositional. 'Photographers are at work everywhere, looking at everything. Why not step back and try and take in the big picture?'
Rather than the meandering, overwhelming story that Civilization could tell, authors William E Ewing and Holly Roussell have managed to keep things markedly orderly, through eight thematic, signposting chapters. They're called things like 'Hive', a chapter that captures the buzzing insect colony of today's cities through the dizzying human seas of Cyril Porchet, and the vast urban markets of Massimo Vitali. Or 'Alonetogether', which presents the human as a social animal, through portraits of friend groups, faith gatherings, sports teams; while alluding to the lonely corners of society, in the pitfalls of tech-induced isolation, as in Evan Baden's selfie-culture portrait series Technically Intimate (2010).

Through clinical capturings of health facilities by Reiner Riedler, and scientific shots of space centres by Vincent Fournier, 'Next' (the final chapter), visually embodies the invention, fear, and pure fantasy of looking into the future. The chapter answers not only The Way We Live Now, but ponders at the way we will live tomorrow. 'Sometimes with all the breathless talk, it seems "next" has arrived – and it's already old hat,' write Ewing and Roussell. 'We've dropped the old question, what's new, pretty much, simply because the newness has become so routine.' History and futureollide in Simon Norfolk's photograph of the Mare Nostrum at the Barcelona Supercomputer Center, built in the nave of an old church to help with its cooling; a piercing metaphor of our worship-like relationship with technology.

Bolstered on each page by musings direct from the mouths of those who made the work, we're reminded of the human at the other side of the camera, the individuals caught up within civilisation as a whole. In a chapter called 'Control', Edgar Martins writes, 'To photograph is to collect the world.' It's also to preserve it. Rather than a mesh of mismatched, disconnected scenes, Civilization becomes a global family photo album; a memory book of personal stories that patchwork to form a rounded impression of humanity. Our advice? Send this book into space as a visual capsule of life on our planet today (though it might scare any prospective Earth-dwellers off).
INFORMATION
Civilization: The Way We Live Now, £39.95, published by Thames & Hudson (opens in new tab). Flowers Gallery in London will show a selection of work by photographers featured in the book from 7 November – 22 December at its Kingsland Road venue
Elly Parsons is the Digital Editor of Wallpaper*, where she oversees Wallpaper.com and its social platforms. She has been with the brand since 2015 in various roles, spending time as digital writer – specialising in art, technology and contemporary culture – and as deputy digital editor. She was shortlisted for a PPA Award in 2017, has written extensively for many publications, and has contributed to three books. She is a guest lecturer in digital journalism at Goldsmiths University, London, where she also holds a masters degree in creative writing. Now, her main areas of expertise include content strategy, audience engagement, and social media.