Simply being: Chris Floyd explores scale and space in 'The Infinity Degree'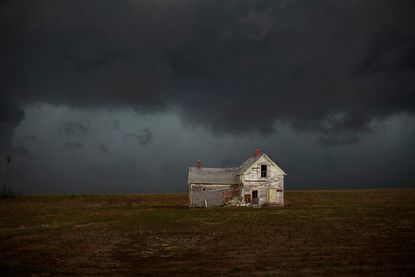 (Image credit: Chris Floyd)
The British photographer (and occasional Wallpaper* contributor) Chris Floyd is best known for his portraiture, but it's the humble landscape that headlines in his new exhibition, launched at fashion and homeware brand Anthropologie's store in Chelsea.

Entitled 'The Infinity Degree', the exhibition weaves together a tapestry of images captured by happenstance, with the earliest image dating back to 2000 and the most recent shot taken just two months ago. 'In the same way that Marmite is a natural byproduct of beer brewing, these pictures are a byproduct of my other projects,' quips the photographer.

Delving into his archive, Floyd was struck by a common visual thread linking images separated by several years and vast distances. Here, a sense of scale and space was in play, with compositions that deliberately turned large objects into small ones, and vice versa.

Now based in London, Floyd previously lived in the US for several years, traversing 40-odd states on assignment for the likes of The New York Times. Many of the works are plucked from his American travels, though the show is peppered with stills from more far-flung locales such as Berlin and Cape Town.

A North Dakota barn tilts impossibly askew in one image; elsewhere, in Los Angeles, a motel glows nuclear-green in the night. 'In my ordinary daily life, I'm quite anxious. I worry about the world and the future and everything,' Floyd explains. '['The Infinity Degree'] was a sort of attempt to create a calm bucolic sense of order.'

Floyd was 14 years old when he first discovered photography, finding it 'a brilliant catalyst to explore things I was curious about'. In a sense, 'The Infinity Degree' is a return to this spontaneous impetus – a refreshingly modest expression of photography. It's simply being.
INFORMATION
'The Infinity Degree' runs until 13 March 2016. For more information, visit Chris Floyd's website
ADDRESS
Anthropologie
131–141 Kings Road
London, SW3 4PW