Book: 'Own Label', Sainsbury's Design Studio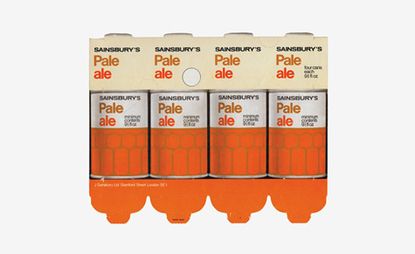 (Image credit: TBC)
He may not be a household name in the UK, let alone beyond, but it's safe to say that graphic designer Peter Dixon's creations found their way into many a British home during the 1960s and 70s. His pared-down yet bold, geometric packaging for Sainsbury's Own Label products not only helped build the supermarket chain into a national megabrand but influenced a whole generation of designers. And today, a look at one his cereal packets or drink cans is likely to induce a great wave of nostalgia in those who grew up in the era.
Such was the case for Trunk Records' founder Jonny Trunk - the man behind new book, Own Label. For him, it's the Cornflake box, emblazoned with a grid of orange circles (inspiring the cover of the book), that takes him back. 'The design was simple enough to be totally unforgettable and has been burnt into my memory ever since,' he says. 'Like a curious mental itch that needed scratching, in 2006 I decided I had to see this packet again.'
Trunk contacted Sainsbury's head office and discovered a huge archive material from the 1960s and beyond, including test packets, mock-ups, proofs, even packaging briefs. And so the idea for the book was born.
Published by Fuel, and produced in collaboration with the Sainsbury's archive and family, the book includes a foreword by Trunk, followed by an essay from graphic design writer Emily King. For King, it's the fizzy drink cans that are etched on her mind. 'I came from a no-fizzy-drinks tribe,' she says, 'so for me, for all its graphic austerity, the simple red and blue stripe and sans serif type of the Sainsbury's cola can represents the font of all that is forbidden and hence desirable.'
It may give a nod to the International Typographic Style of the 1950s, but the Own Label approach to graphic design was so fresh that the packaging could easily sit on supermarket shelves today.