Liberated sound and vision: 'Björk Digital' at Somerset House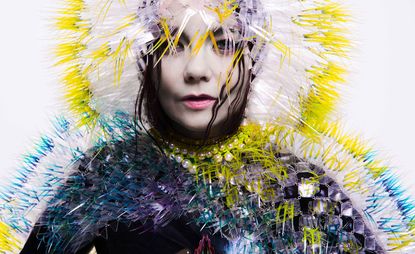 (Image credit: press)
Björk's latest album-cum-exhibition – currently on view at Somerset House – promises 'an immersive virtual reality exhibition from the Icelandic icon'. Pictured: Vulnicura album art
Icelandic singer and songwriter Björk is nothing if not mesmerising. For decades her look, her music and her art have been a constant source of inspiration and intrigue for audiences worldwide, and her latest album-cum-exhibition is no exception.

Staged at the London Design Biennial HQ, Somerset House, 'Björk Digital' promises 'an immersive virtual reality exhibition from the Icelandic icon'. Virtual reality, augmented reality, 360-degree video and soundscaping all come together to create what can only be described as an emotionally stimulating experience. While the technology used throughout is not 'new' in and of itself, it hasn't been used or packaged like this before.

That sense of freedom, of going off the beaten track, is 'very Björk'. 'Technology is enabling women to work outside the already formed hierarchical systems,' writes the singer on her Facebook page. 'The laptop gave me a personal studio to make Vespertine; the touchscreen helped me map my own idiosyncratic musicology outside the classical canon and reconnect it with nature and make Biophilia; VR is helping making a new stage free of politics where sound and vision is swirling free in 360, fully liberated.'

The true victory of this latest experiment in the 'visual album' is the way in which Björk gives aesthetic value and meaning to sound. Using songs from 2015's Vulnicura – Björk's break-up record, famously written after her split from Matthew Barney – it makes for a very intimate experience; at times too much so. As you venture between the eight rooms of the exhibition, putting on various headsets, you encounter different versions of the Icelandic songstress: on the blackened Icelandic beach in 'Stonemilker', where she disappears behind you; as an exploding form of sparks in 'Quicksand'; even a devil-like, moth giantress avatar in 'Notget'. The latter of these is all the more haunting for it's 3D nature and complete disregard for your personal space – a nod to 3D porn and it's significance to software developers, no doubt.

'I feel the chronological narrative of the album is ideal for the private circus virtual reality is; a theatre able to capture the emotional landscape of it,' says Björk, highlighting the importance of the interactive element in the exhibition.

The surround-sound system created by The Living for 'Black Lake' at MoMA opens the show, and the headline-grabbing video of 'Mouth Mantra', created with director Jesse Kanda, captures the inside of Björk's mouth while she sings the title track. (Not for the faint-hearted or squeamish, that one.)

Overall it is predictably peculiar, but in the most wonderful of ways that only Björk could pull off.
INFORMATION
'Björk Digital' is on view until 23 October. For more information, visit the Somerset House website
ADDRESS
Somerset House
Strand
London WC2R 1LA