'Utopia by Design': our pick of the inaugural London Design Biennale pavilions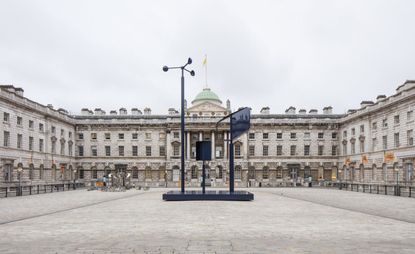 (Image credit: Barber & Osgerby)
The inaugural London Design Biennale has taken over Somerset House this September, presenting newly commissioned installations and works by contemporary designers, innovative concepts and research-led design. Focusing on the theme of 'Utopia by Design', 37 countries were invited to ponder issues such as sustainability, urbanism, migration and pollution, on the occasion of the 500th anniversary of Thomas More's Utopia. Designers and curators developed different definitions of utopia, asking questions whose answers imagine different futures inspired by current situations and issues. Designers and curators analysed the definition of More's concept and were inspired by moments from the 1516 book, also looking at its meaning with a more contemporary approach. Here is a taste of what's in store...

London Design Biennale (opens in new tab), in partnership with Jaguar
(£15/£10 concessions); 7–27 September 2016; Somerset House, Strand, London WC2R 1LA
White Flag
Country: Italy
Designer: Antonio Aricò, Associato Misto, Marco Campardo and Lorenzo Mason, Cristina Celestino, Matteo Cibic, CTRLZAK Studio , Francesco D'Abbraccio, Folder, Alessandro Gnocchi, Lanzavecchia + Wai, Lucia Massari, Giacomo Moor, Eugenia Morpurgo, Rio Grande, Sovrappensiero Design Studio, Alessandro Stabile, Studio Gionata Gatto, Studio Zanellato / Bortotto, Gio Tirotto, 4P1B Design Studio

Described as a 'Moment of surrender,' curators Silvana Annicchiarico and Giorgio Camuffo have planned their idea of Utopia around the idea an iconic peace sign; the white flag. Administered by Triennale Design Museum, they have appointed a team that includes Matteo Cibic, Lanzavecchia + Wai and Giacomo Moor to re-imagine their vision of a white flag set across the clean monochrome tiled space. Together with their interpretations, the designers chose products to adorn the rest of the space in different playful silhouettes.
In-between: The Utopia of the Neutral
Country: Switzerland
Designer: Kueng Caputo, Adrien Rovero, Dimitri Bähler, Stéphanie Baechler, Sibylle Stoeckli, PlueerSmitt, and Jörg Boner

Switzerland's contribution to the biennale echoed the collaborative spirit of Wallpaper* Handmade, as seven designers were paired up with a niche industrial manufacturer to create a collection of objects that explore 'the dynamics between utopia and the everyday'. Geneva-based designer Stéphanie Baechler caught our eye with her 'Complications' project – created in collaboration with Méroz Ressorts – in which she enlarged watch movements into striking, abstract sculptures. Switzerland was rewarded for its sterling efforts, scooping the Jaguar Innovation Model at the biennale.
VR Polis, Diving into the Future
Country: Spain
Designer: Dimeloami Productions, curated by Maite Cantón

Spain looked into the future with its selection of enveloping installations. Focusing on the city of Santander (also know as the 'smart city'), Dimeloami Productions took cues from the area's recent data accumulation after monitoring pollution, noise and temperature. Thus the exhibition embarks on a futuristic technology warp, like the 'magic time tunnel' (pictured) that utilises wires and copper tubes to create a riveting tunnel representing a data stream or the Calabrian landscape
Chakraview
Country: India
Designer: Sumant Jayakrishnan

Bringing a vibrant rush of colour to the show, India's pavilion is inspired by the spirituality surrounding the seven chakras. Honing in on the country's heritage of textiles, designer Sumant Jayakrishnan alongside curator Rajshree Pathy have created an emporium of bold decorative symbols of the country. In the mirror reflective room, emblematic visuals plaster each of the walls, while primary-hued Aadyam fabrics hang from the ceiling in celebration of the intricate weaving culture.
Plastic Effects
Country: Australia
Designer: Brodie Neill

Inspired by the sheer volume of plastic waste that harbours in the ocean, the Australian pavilion approaches the problem this has on the picturesque environment of the land down under. As one part of the installation, Neill has created a table with a plethora of these plastic pieces to appear as piercing blue terrazzo in a mesmerising display.
Utopian Landscape
Country: Greece
Designer: Niki and Zoe Moskofoglou

Travelling both indoor and outdoor, visitors have two opportunities to experience the Grecian entry. Nodding to the fact that 'utopia' was taken from Ancient Greek translation, they have focused on an essence of the country with a magnitude of marble. Inside, the design duo have created a version of the marble quarry at Dionysus, while outside, an impressive 1.2 tonne block of Pentelikon marble which was extracted from a quarry outside of Athens stands raw with its dramatic flaws and veins exposed.
Cadavre Exquis: An Anatomy of Utopia
Country: Poland
Designer: Maria Jeglinska and Klara Czerniewska

Curated by designer Maria Jeglinska and art historian Klara Czerniewska, Poland's pavilion borrows from the surrealist word association game, cadavre exquis (the exquisite corpse). The pair have honed in on six challenges facing the world today and distilled them into abstract ideas, from clouds to artificial intelligence. Utopia intertwines with dystopia, as visitors are prompted to follow a narrative of their choosing throughout the installation. 'What we have previously witnessed as science-fiction narratives are creeping into reality,' explains Jeglinska, founder of the Warsaw-based Office for Design & Research. 'This is equally a blessing and a curse, sometimes independent of the original intentions.'

LeveL – The Fragile Balance of Utopia
Country: Austria
Designer: mischer'traxler

Viennese design duo mischer'traxler have a poetic way of incorporating technology, light and movement into their works, and their installation representing Austria follows this path. Their kinetic light sculpture reflects on the fragile balance of utopia; a network of balanced rods with LED lights at their extremities is controlled through a precise mechanical structure of hinges and circuitry. When the hanging mobile is still, the LEDs illuminate the space, but as soon as visitors enter the rods move, offsetting the light balance of the room
The Wish Machine
Country: Turkey
Designer: Autoban

Recreating the notion of a wish tree, Autoban's pavilion is a contemporary kinetic version that snakes its transparent tube across the West wing of Somerset House. Made up of spiralling hexagonal tubes surrounded by mirrors, the encompassing experience allows you to fill out a wish on paper and plug a transportable cylinder into the tube that then gets sent around the entire installation.

Courtesy Gareth Gardner
The Counter Culture Room
Country: Chile
Designer: Fab Lab Santiago

Manufacturing laboratory Fab Lab Santiago is paying homage to Project Cybersyn, a Chilean government initiative first floated in 1970 by engineer Fernando Flores and the Salvador Allende government. The ambitious computing project – an avant-garde undertaking for its time – aimed to form a sort of technocratic 'socialist internet' intended to manage the national economy. However, due to the Pinochet coup in 1973, Project Cybersyn was never realised – until now.

Courtesy of Fab Lab Santiago
Bliss
Country: Albania
Designer: Helidon Xhixha

One of the four outdoor spectacles on view, 'Bliss' is an assortment of reflective stainless steel sculptures. Realised by contemporary artist Helidon Xhixha, the organically-shaped pieces meld together in a ritualistic circle, channelling the architectural style of Renaissance cities and a political theory by French philosopher Louis Marin, who believed a political system was 'haunted at the centre by utopia'. The colossal installation offers up different perspectives from around the circle, while equally providing space for self-reflection and a place to sit
Utopia Means Elsewhere
Country: Germany
Designer: Konstantin Grcic

For his double installation, the German designer looked into the psychological roots behind the idea of utopia. His contribution is divided into two areas taking over two rooms in Somerset House's West Wing: one light and one dark, signifying a notion of utopia that is 'undefined, blurry and constantly changing', Visitors walk through an all-white antechamber, where an easel supports a quote from John Malkovich: 'Utopia Means Elsewhere'. In the second space, a fire offers a feeble light in a blackened room, with seating by the designer inviting visitors to stop and think about the aforementioned 'elsewhere'

Design Diorama: The Archive as a Utopic Environment
Country: The Netherlands
Designer: Studio Makkink & Bey

Tucked in a cove in the corridor of the West Wing is The Netherlands' powder blue polystyrene 'Design Diorama'. Realised by Rotterdam-based Studio Makkink & Bey, they bring their conceptual style to the pavilion by approaching the idea and history of archiving design as their utopia. Made up of tools and artefacts from their studio, from rubber drawings to a peacock feather duster, the 3D blueprint foam set-up gives the mismatched products a captivating synergy
Mezzing in Lebanon
Country: Lebanon
Designer: Annabel Karim Kassar

The Lebanese architect has recreated a Beirut-style street market on Somerset House's River Terrace. Kassar built a mock up of the city's streetscape using scaffolds on the terrace, with curtains and draped fabrics instead of walls and windows. The architect also added some of the minutiae of Lebanese street life, such as tangled wires and street signs; while behind the curtained walls, sellers offer goods that range from falafel, shawarma and coffee to ceramic toilets, representing the eclectic mix of her country's streets. A café will be in operation, managed by restaurateur Mourad Mazouz, and there will be a functioning barber shop, mixing the creative approach of the Lebanese with the London cityscape.
Border City
Country: Mexico
Designer: FR-EE (Fernando Romero Enterprise)

One of a few entries that look at utopia in urbanism, Romero's exploration looked at two main urban typologies: star-shaped, with a radial street structure originating from a central point; and the regular grid, made of rectilinear blocks. The Mexican architect imagined a third, hexagonal shape, and combined the three to imagine a new urbanism model to be applied to border areas of the developing world. The installation will feature a large-scale model of his 'Border City', with a body of research also on display, looking at migration in these areas, both historically and currently
Rosa Bertoli was born in Udine, Italy, and now lives in London. Since 2014, she has been the Design Editor of Wallpaper*, where she oversees design content for the print and online editions, as well as special editorial projects. Through her role at Wallpaper*, she has written extensively about all areas of design. Rosa has been speaker and moderator for various design talks and conferences including London Craft Week, Maison & Objet, The Italian Cultural Institute (London), Clippings, Zaha Hadid Design, Kartell and Frieze Art Fair. Rosa has been on judging panels for the Chart Architecture Award, the Dutch Design Awards and the DesignGuild Marks. She has written for numerous English and Italian language publications, and worked as a content and communication consultant for fashion and design brands.