Betty Woodman: the ceramic artist with a painter's touch
Los Angeles-based David Kordansky Gallery stages her first posthumous gallery exhibition, bringing together sculptures and paintings from 2008 to 2016 while a series of never-before-seen works on paper published exclusively here give new context to her clay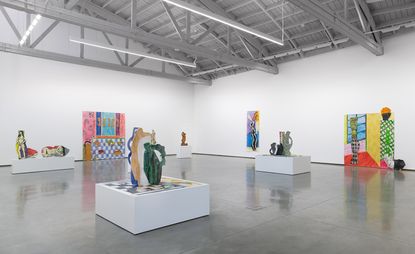 (Image credit: Jeff McLane)
'What do I do now?' the late Betty Woodman – who passed away last year – wondered, at 75, when her 2006 retrospective at the Metropolitan Museum of Art had closed. Quietly and consistently influential, the artist practiced her craft steadily over 50 years and held a teaching post at the University of Colorado for more than thirty. She had been working with clay since she was 16: it was through her pottery that she met her husband of five decades, George, and it was clay that helped her deal with the tragic death of her daughter, Francesca, in 1981.

This long-term dedication to her medium didn't mean Woodman was stuck – if anything, her legacy is her inventiveness. She was the Madonna of ceramics; endlessly curious about the different techniques and approaches used by ceramic artists, she never stopped pushing her art in new directions right up to the last years of her life as a new exhibition at David Kordansky Gallery in Los Angeles proves.
'Shadows and Silhouettes' is the first posthumous gallery exhibition on Woodman and brings together sculptures from 2008 to 2016, while a series of never-before-seen works on paper reveals more about the role of the pictorial in her sculptural spaces. Often combining the two, paintings started to play an increasingly important role in this last period of Woodman's work, arising from a desire to give context to her clay after the Met.

One of the major themes in Woodman's oeuvre was her constant fascination with vases and vessels, returning to the most revered shapes of the oldest art form, and yet finding new things to do with them. She took unexpected materials, like lacquer paint, and applied it to earthenware; she transformed an ancient slip gaze, terra sigillata, by using it on paper.
RELATED STORY
Her practice was rife with experimentation, mixing the old and the new, and drawing on diverse cultural references, from Matisse's cut-outs to Minoan art, the capitals of Roman columns or Tang Dynasty tomb figurines. Woodman always simultaneously embraced the perfunctory and domestic nature of ceramics while being unafraid to make connections between clay and art history, design and architecture.
On show at David Kordansky are works so exuberant they seem to dance: the gingham tablecloth and meta-ceramics in Summer Tea Party (2015-16); the reclining nude figures of Hers Vases: Life Drawing (2008); or the motifs of Aztec Vase & Carpet: Mariana (2015). Colour, shape, pattern and texture are all staged to kindle narratives of their own.

Woodman never lived in LA – she was part of the potter community in Colorado and divided her time between New York and Tuscany, where she had a second home, working while the California Clay Movement was kicking off, all surfer dudes and psychedelia. As Woodman herself said, 'ceramics was always macho world'. Yet her uninhibited experimentation, the freedom and lustrous joy of her work, seem perfectly at home here.
INFORMATION
'Shadows and Silhouettes', 27 June – 24 August, David Kordansky Gallery. davidkordanskygallery.com
ADDRESS
David Kordansky Gallery
5130 W Edgewood Place
Los Angeles
Charlotte Jansen is a journalist and the author of two books on photography, Girl on Girl (2017) and Photography Now (2021). She is commissioning editor at Elephant magazine and has written on contemporary art and culture for The Guardian, the Financial Times, ELLE, the British Journal of Photography, Frieze and Artsy. Jansen is also presenter of Dior Talks podcast series, The Female Gaze.