Berlin Art Week 2017: the highlights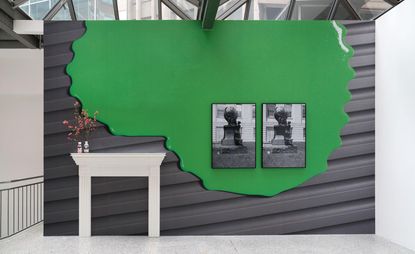 (Image credit: Wolfgang Günzel, Offenbach)
This year, among many exhibition openings and parties, Berlin Art Week received a market-driven makeover with the rebranding of Art Berlin Contemporary (abc) to Art Berlin. In previous years, abc, the city's main art fair, followed an experimental, untraditional format, focusing on artists rather than galleries or sales. At Art Berlin, though, the mood has shifted: 110 white booths consume three large exhibition halls in a disused train station.

Despite the high-end façade, many galleries presented rather incoherent booths, jamming together their best-selling artists. Only a few, like Neugerriemschneider and Soy Capitán, offered well-curated presentations or, like Klemm's and Sprüth Magers, gave their whole booth to one artist. A majority of the participating galleries are from Berlin, so if you're in town for Art Week, we think it's better idea to just go to the galleries themselves instead of the fair.
Gallery highlights of the week included the New York-based artist Math Bass' first European solo exhibition at Tanya Leighton. For this show, Bass, who gained notoriety with her exhibit in New York at MoMA PS1 in 2015, presents new sculptures and paintings that serve as an expansion of her ongoing series Newz! (2013). Galerie Barbara Thumm hosted a group show of significant importance. Titled 'Black Matters', the exhibition features work by Radcliffe Bailey, Nick Cave, Barkley L Hendricks, María Magdalena Campos-Pons, Lorraine O'Grady, Dread Scott and Carrie Mae Weems.

Outside of gallery spaces, important events included the Festival of Future Nows at Hamburger Bahnhof, which brings together more than 100 artists for a temporary exhibition, performances, and readings throughout the weekend; the exhibition '3612.54 M³ VS 0.05 M³' with new work by Monica Bonvicini at Berlinische Galerie; and the first-ever retrospective dedicated to the German experimental filmmaker Harun Faroki, which took place at multiple venues throughout the city. Openings and parties continued over the weekend and – thankfully – most exhibitions will be on view for at least another month.
INFORMATION
For more information, visit the Berlin Art Week website (opens in new tab)