Artist Ibrahim Mahama's recipe for jollof rice
Feed the soul with Ibrahim Mahama's unifying recipe for jollof rice, as featured in our monthly Artist's Palate series, a Wallpaper* homage to our favourite contemporary art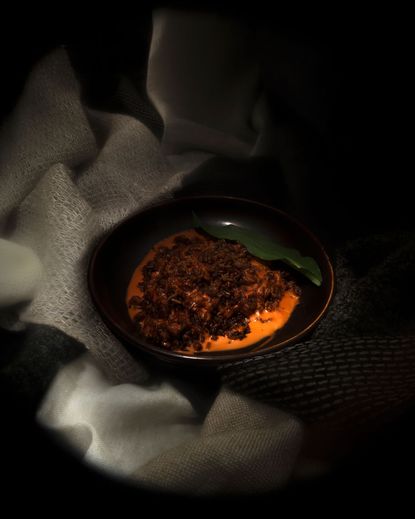 (Image credit: Oskar Proctor)
The ambitious installations of Ibrahim Mahama bring to light tales of migration, trade and exploitation that can often go unnoticed. Take for example Non-Orientable Nkansa, a wall formed of hundreds of wooden boxes that once held the tools used by shoe repairmen in his native Ghana. Gathered through a process of negotiation and exchange, and carefully assembled into one monumental work with no supporting structure, the boxes articulated the chaos of post-independence society and the spirit of improvisation and collaboration that is necessary for progress.
For A Grain of Wheat 1918–1945, he collected dozens of Second World War first aid stretchers from a refugee camp near Athens and restretched some of them with household fabrics and smoked fish papers from West Africa, drawing powerful parallels between wartime suffering and colonial exploitation. His Parliament of Ghosts, created for the 2019 Manchester International Festival, used rows and rows of Ghana Railways carriage seats (built under British colonial rule) to conjure a sense of broken promise; meanwhile, a recent installation at White Cube Bermondsey, Capital Corpses, brought together 100 decommissioned sewing machines, rusted but still functional, clattering in tandem to evoke the labour that has been driven to the margins by automation.
Most famous of all are the jute sacks that have been integral to his art since the early days: made in South East Asia and imported to Ghana to transport cacao beans, they are reused to transport food and eventually coal, accumulating marks and stains that bear witness to their journeys. In draping them over buildings of significance, including the Malam Dodoo National Theatre in Accra, the Torwache in Kassel and the Porta Venezia in Milan, he elevates a humble material and reminds us how the edifices of civilisation are built on the backs of the masses; and in bringing together hundreds of collaborators to weave sacks into these tapestries, he demonstrates the ability of simple gestures to make a big impact.
It follows naturally that his dish of choice would invoke tradition and communal spirit – while there have been passionate debates among west African nations over specific recipes, there is no denying that this is one of the region's most cherished culinary traditions. Says the artist, 'Food can bring people together and most certainly jollof rice can do so for Ghanaians, Nigerians, Senegalese and the rest of the world at this time in history.' With thanks to Jeremy Chan, co-owner and executive chef of London's Ikoyi restaurant (winner of the One to Watch award at The World's 50 Best Restaurants 2021), who prepared the jollof rice for our shoot.
RELATED STORY
Recipe for Ibrahim Mahama's jollof rice
Ingredients
2 large yellow onions, peeled and roughly chopped
80ml vegetable oil, plus 2 tbsp
396g chopped tomatoes
170g tomato paste
1 habanero pepper
2 tsp curry powder
1 tsp garlic powder
1 tsp ground ginger
½ tsp mixed dried herbs
3 chicken bouillon cubes, crushed
500g long grain rice, rinsed
150g frozen mixed vegetables
Method
Add the onions and two tablespoons of vegetable oil to a blender and pulse until smooth. Transfer to a medium bowl.
Add the chopped tomatoes, tomato paste, and habanero pepper to the blender, and pulse until smooth. Transfer to a separate medium bowl.
Heat the remaining oil in a large, heavy-bottomed pot over a medium heat.
Once the oil is shimmering, add the onion puree and cook for about 10 minutes until the water has gone and the puree is starting to brown.
Stir in the tomato puree and add the curry powder, garlic powder, ginger, dried herbs and crushed bouillon cubes. Cook for 20-30 minutes, stirring occasionally, until the stew has reduced by half and is deep red in colour.
Add the rice, mixed vegetables, and 360ml water. Bring to the boil, then reduce the heat to low and cover the pot with foil and a lid. Simmer for another 30 minutes until the rice is cooked through and the liquid is absorbed.
A version of this article originally appeared in the November 2021 Art Special Issue (W*271), on newsstands now. Subscribe to Wallpaper* today. (opens in new tab)
INFORMATION
'Lazarus' is showing until 7 November 2021 at White Cube Bermondsey, whitecube.com (opens in new tab)
TF Chan is a former editor of Wallpaper* (2020-23), where he was responsible for the monthly print magazine, planning, commissioning, editing and writing long-lead content across all pillars. He also played a leading role in multi-channel editorial franchises, such as Wallpaper's annual Design Awards, Guest Editor takeovers and Next Generation series. He aims to create world-class, visually-driven content while championing diversity, international representation and social impact. TF joined Wallpaper* as an intern in January 2013, and served as its commissioning editor from 2017-20, winning a 30 under 30 New Talent Award from the Professional Publishers' Association. Born and raised in Hong Kong, he holds an undergraduate degree in history from Princeton University.
With contributions from