Artist Fischli/Weiss puts quizzical stamp on Alvar Aalto's 'Stool 60'
Fischli/Weiss transforms the Alvar Aalto 'Stool 60' into a multifarious, whimsical sculpture full of burning questions, as part of the ICA x Artek Artist's Editions series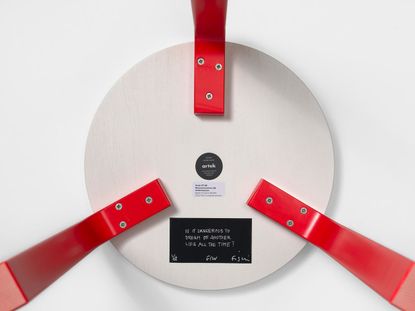 (Image credit: Tod White)
'Am I suffering from good taste?', 'Can everything be thought?', 'Is it dangerous to dream of another life all the time?' These are some of the more existential questions posed in artist Fischli/Weiss' latest intervention, 21 Questions (2021).

The project marks the second in the ongoing ICA x Artek series of artist customisations of the iconic 'Stool 60', designed in 1933 by Finnish architect, designer and Artek co-founder Alvar Aalto. Fischli/Weiss' edition of 252 follows Barbara Kruger's 2019 Untitled (Kiss), which sold out its edition of 600 within weeks of its launch.
21 Questions pairs the timeless stool with a bespoke T-shirt, the label in each T-shirt featuring one of 21 selected excerpts from the Fischli/Weiss' Questions, a piece that scooped the Golden Lion at the 50th Venice Biennale in 2003. This irreverent and ironic transformation of Alvar Aalto's 'Stool 60' demonstrates Fischli/Weiss' knack for plucking something extraordinary from something so utterly everyday.

Fischli/Weiss was founded by Peter Fischli (born 1952) and David Weiss (1946-2012). From 1979, the Swiss duo collaborated on photographs, videos, installations, and sculptures, forging their brand of conceptual art, combining humour and absurdity with mundanity. Today, Fischli continues to work under the duo's name.

As he says of the collaboration, 'Since our first solo show in London at the ICA, I always went back to this great place for seeing shows, watching a film programme, buying a book or two or having a good British version of a cappuccino. Of course, making an edition for supporting this outstanding institution was a great pleasure and honour. I hope people will like it.'
Though many of the questions posed by Fischli/Weiss relate to loss and anxiety that many of us have asked ourselves in recent years, other featured questions are more obscure, yet equally as unanswerable: 'Should I buy a big hammer?', 'What's in a dog that enjoys lying in the sun?'

'For me, this ICA × Artek edition by Peter Fischli and David Weiss is personal: not only because it speaks to the rupture of the past months, but also because a black T-shirt over an empty modernist stool is also a nod to a lost friend, to the lost lives of the past year and what we might learn from it,' says Stefan Kalmár, executive director of the ICA.
Riffing on Kruger's iteration of 'Stool 60', Fischli/Weiss draws on her signature red for the legs, fusing it with a plain white seat and the black T-shirt. The result is a deft ode to Kruger as well as to the crisp colours of the Russian Suprematism art movement.

Each of the 21 stools is bespoke to the collaboration and created in a series of 12, finished on the underside with a sticker of the selected excerpt, hand-signed and numbered. Each piece is accompanied by a signed photographic certificate of the stool in its sculptural form and an 'instruction manual', written by Peter Fischli, detailing how to create and enjoy the work to its full potential.

21 Questions is not easy to categorise. It is at once a fashion item, a piece of modernist design and – with the sum of its multifarious parts combined – a sculpture.
INFORMATION
Harriet Lloyd-Smith is the Arts Editor of Wallpaper*, responsible for the art pages across digital and print, including profiles, exhibition reviews, and contemporary art collaborations. She started at Wallpaper* in 2017 and has written for leading contemporary art publications, auction houses and arts charities, and lectured on review writing and art journalism. When she's not writing about art, she's making her own.