Societal design: Susanna Björklund's inaugural 'Signals' installation at Habitare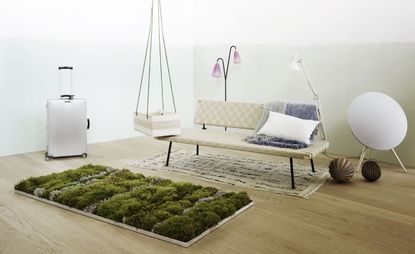 (Image credit: Martti Järvi)
The effects of political, social and digital changes on the world are always being observed. How these factors affect our interiors and design is a new research sector which trend analyst Susanna Björklund explored in an inaugural installation, 'Signals', at Habitare in Helsinki.

Björklund has taken her journalistic skills to Enne – a Finnish agency looking to the future of trends in both design and society. Enne gave Wallpaper* a peek into their vast research in a themed display of modern interiors at the fair. The 'Signals' exhibition showed four distinctly different styled spaces: 'Inbetween', 'Simplify', 'Positive Psychology' and 'Deep'. All conceived with colour themed products and fabrics provided by tonal experts Pantone, viewers were invited to connect cultural influences and design through these homely sets ups.

Upon entering the elaborate 'Deep' room interiors, the rich colours and patterned fabrics created a sense of luxury and warmth. The wondrous Zarro marble tables sat with products including Tom Dixon gold candles, dark Gubi shelves, and rust- and navy-coloured Thonet chairs. Björklund wished to present an anti-minimalist setting, a space for cultures in economic struggle who seek comfort in darker colours and busier spaces. The opposite is expressed in 'Simplified', a pared back, pastel hued set which felt more organic, with a moss rug by Finnish designer Minna Siltala and Piia Ouri, and an outdoor day bed from Ilse Crawford's collection for Ikea amid the Rimowa suitcase and B&O speakers. Here, Björklund is touching on themes of urbanisation – more houses, less space – and therefore fewer possessions.

The other two set-ups explored slightly more confusing territory which could be seen as anti-trend. 'Inbetween' is the most playful of the four. A burst of pop colour seen in the Muuto modular shelves lined up against the wall and the vintage Artek rocking chairs created a Memphis-style atmosphere, evoking a limbo between design and craft. 'Positive Psychology', the most controversial set up, was more of a mismatch of items designed in disarray with no particular theme, mixing a selection of plant life with rattan chairs and printed curtains designed by Björklund herself. This was the only set up we were unable to walk through, suggesting a sense of personal and private space. Perhaps we shouldn't judge why someone places a chair in a certain space and just appreciate it.

Using modern design, 'Signals' shows social changes or 'megatrends' in a unique way. 'Everything in the design world is happening in such a fast cycles that it actually mirrors and shows signals of what is going to happen in society,' Björklund says. Habitare are keeping the installation as a permanent section of the fair, to see how these trends change from year to year.
INFORMATION
Photography: Martti Järvi