American in Paris: nonagenarian Shirley Jaffe remains cutting edge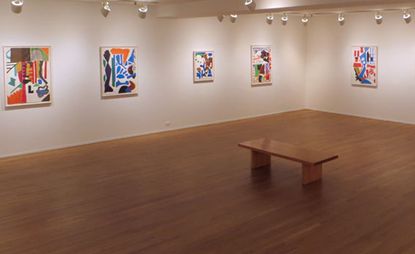 (Image credit: Tibor de Nagy Gallery)
At the ripe age of 92, the Paris-based American painter Shirley Jaffe shows no sign whatsoever of slowing down. Now, the Fifth Avenue Tibor de Nagy Gallery is celebrating her mixed media works on paper from the last two decades, in a new eponymous exhibition.
More than 60 years ago, Jaffe moved to Paris and quickly established herself among a tight-knit circle of ex-pat American artists including Sam Francis, Ellsworth Kelly and Joan Mitchell. Even so, Jaffe eschewed Kelly's rigid geometric forms and Mitchell's brand of abstract expressionism.
'Shirley hews to biomorphic shapes and forms, and some say her palette owes a nod to Matisse,' says Andrew Arnot, Tibor de Nagy's co-owner. Arnot has devoted five solo shows to Jaffe's oeuvre, as well as featuring her work in a solo booth at the prestigious Art Dealers Association of America fair. Further proving her own prowess, Jaffe has garnered a total of 25 exhibitions in the US and in Europe, with the Pompidou and MoMA (opens in new tab) snapping up her paintings.
While Jaffe's works on paper on occasion inform her oil paintings, the Left Bank artist has never thought of them as studies. 'There's a sense of fluidity and immediacy to Shirley's works on paper,' Arnot points out.
To this day, Jaffe is immersed in the cutting edge contemporary world. 'When I was last in Paris, we headed off to the galleries of Perrotin and Frank Elbaz,' notes Arnot. One thing is certain – Jaffe is still a contender in the fast paced gallery scene.
INFORMATION
'Shirley Jaffe: Works on Paper' is on view until 30 April. For more information, visit the Tibor de Nagy Gallery website
ADDRESS
Tibor de Nagy Gallery
724 Fifth Ave
New York
NY 10019
View Google Maps (opens in new tab)
TELEPHONE
1.212 262 5050