A new book looks to the future of African art, while remembering its roots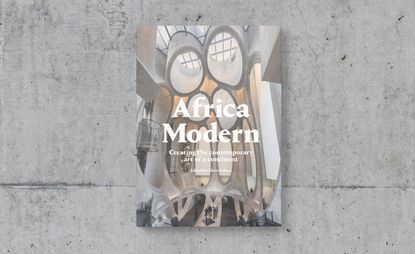 (Image credit: Edited by Ekow Eshun)
The opening of the first major contemporary art museum in Africa offers a moment for celebration, pause and reflection. A new book, Africa Modern: Creating the contemporary art of a continent, edited by Ekow Eshun and published by the KT Wong Foundation in collaboration with Wallpaper*, marks such a moment.

Illustrated with Iwan Baan's photographs, Thomas Heatherwick takes us on a behind the scenes tour of his monumental renovation of the Zeitz Museum of Contemporary Art Africa (MOCAA) in Cape Town. We join him on his first trip round the building when it was a disused grain silo, dodging bird droppings. We look over his shoulder during extensive feasibility studies, where he wrestled with the extraordinary physical make-up of the structure and its 'extremely hard hundred-year old concrete'. And we celebrate with him on the building's eventual completion as a vast, 80-gallery space.

Using MOCAA as a base, Africa Modern visits Johannesburg, Nairobi, Lusaka, Libya and Rwanda, among pockets of the global African diaspora. In doing so, it becomes both an elegy for the continent's cultural heritage, and a window to its artistic future. As the architect writes in his foreword, the book aims to 'celebrate and capture the expectations and thoughts of some of the artists, curators, and practitioners we had always hoped would become part of the institution'.
Eleven of South Africa's leading artists have contributed newly commissioned visual narratives to the tome. They provide insight into each artist's practice, and in the same breath offer indirect commentary on the verdant artistic upswing their nation is experiencing. Mary Sibande's heroic, self-styled statues leap from the centrefold, rearing on horses, or conducting invisible orchestras, dressed in traditional South African garb.

Penny Siopis, meanwhile, writes movingly of the loss of her partner, in relation to the death of Nelson Mandela, through concrete poetry that drips down the page. Pieter Hugo weaves the tale of his upbringing, from the moment his dad gave him an old Pentax camera for his 12th birthday, with images that reflect the 'invisible' and 'emotional' complexities of living in post-apartheid South Africa. These are detailed personal profiles that manage also to be sweeping landscapes.

In-depth essays (ranging from heartfelt memoirs to rigorous academic studies) from leading art critics and curators build a timely picture of the African art scene, in relation to its vastly complex socio-political backdrop – and the future that institutions like MOCAA have the potential to offer.

For instance, Helen Jennings distills in us the fervour and local excitement that Heatherwicks new museum has ignited, particularly in a younger generation of artists – like Kiluanji Kia Henda, winner of this year's Frieze Artist Award – whose work is 'increasingly irresistible'. 'Their tomorrow is now,' she writes.
For Sisonke Msimang, childhood dreams are being realised. The author and daughter of revolutionaries, who believes public art spaces are 'the scaffolding of successful societies', explains how she didn't step foot in a museum until she was in her twenties, despite living in a cosmopolitan home filled with books. Public spaces in her native Lusaka were limited to crowded parks and markets. A dedicated art space was out of the question. 'In a just Africa – the Africa I imagined I would live in when I was little – no child would have to imagine a museum into existence,' Msimang writes. 'She would simply go when she pleased.'

Elsewhere, talk of today's artistic progress is bolstered by urgent discussion on Africa's painful past. Ngũgĩ wa Thiong'o speaks broadly, passionately, about the continuing moral implications of slavery. At this new juncture in South Africa's cultural timeline, he implores us to 'learn from what happened'; to 'read from the tea-leaves of our history'.

Africa Modern is a collection of artistic ideas, philosophies and visual manifestos that will, as grains once did, slowly fill Heatherwick's converted silo. 'Now begins the exciting bit,' the architect writes. 'Visiting, watching and supporting.'
INFORMATION
Africa Modern: Creating the contemporary art of a continent is published by the KT Wong Foundation, in collaboration with Wallpaper* and Thomas Heatherwick. For more information, visit the website
Elly Parsons is the Digital Editor of Wallpaper*, where she oversees Wallpaper.com and its social platforms. She has been with the brand since 2015 in various roles, spending time as digital writer – specialising in art, technology and contemporary culture – and as deputy digital editor. She was shortlisted for a PPA Award in 2017, has written extensively for many publications, and has contributed to three books. She is a guest lecturer in digital journalism at Goldsmiths University, London, where she also holds a masters degree in creative writing. Now, her main areas of expertise include content strategy, audience engagement, and social media.
You might also like
Chic peas: new art cookbook charts a history of hummus

On the Hummus Route traces a utopian track between cities, people, markets and dinner tables. It documents street food in nine Middle Eastern cities, including Cairo, Jerusalem, Gaza, Tel Aviv, Jaffa, and Damascus, and in doing so, offers a fascinating insight into the area's design, food, and culture

By Elly Parsons • Last updated
View More ▸