Tour West Vancouver's considerable cache of midcentury modernist homes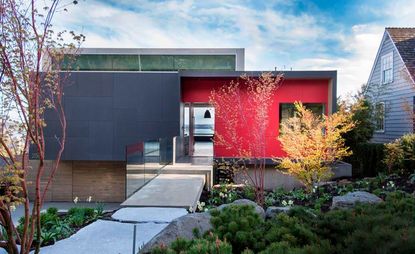 (Image credit: Ema Peter)
As Vancouver's real estate wars ravage the city's heritage housing, including its considerable cache of midcentury modernism, the West Vancouver Museum's West Coast Modern Home tour offers a beacon of hope on the architectural horizon.

Coinciding with the close of their What's Lost exhibition of photography by Selwyn Pullan (Canada's answer to Julius Shulman) featuring images of important West Coast modernist residences that have been demolished – the tour provides a unique perspective on both heritage preservation survivors and contemporary homes inspired by their spirit.

West Vancouver, Canada's wealthiest postal code and home to both unique residences from the last century designed by the likes of Arthur Erickson and Ron Thom as well as being ground zero in the great reckoning between heritage architecture and price per square footage/lot value – is a kind of architectural crucible.
And the museum, with its 13th annual tour, presented by British Pacific Properties, is an on-going and passionate advocate for the area's architectural legacy. As museum director Darrin Morrison notes, 'In the middle of the 20th century, architecture and the built form put the West Coast on the cultural radar nationally and internationally. The West Vancouver Museum's West Coast Modern Home Tour highlights this era and showcases its enduring appeal.'

This year's tour spans the gamut from the 1959 Isleview Residence, a half-century-old post and beam classic originally designed by architect Bob Lewis and recently renovated by local firm Design Particles, through to the 2016 Red Residence, a stunning two-storey residence designed by McLeod Bovell perched on a sloping mountainside with a panoramic ocean view.

The 1977 Hemingway Residence exemplifies the era's experiments with staggered vertical spaces, and recalls architect Brian Hemingway's mentor Paul Merrick's multi-level house in Eagle Harbour. A recent three-year renovation by Fook Weng Chan – formerly mentored by Brian Hemingway at Hemingway Nelson Architects, FWC Architecture and Urban Design and builder Sean Michel of SMC Contracting Ltd, stays true to Hemingway's original intent to create a kind of fir-shrouded 'temple' in the woods.
While sadly, the late Arthur Erickson's 1965 Smith House – a proud modernist survivor (unlike his Graham House in West Vancouver, demolished in 2007) and home to renowned painter Gordon Smith, was pulled at the last minute from the tour, Erickson's 1979 La Cas Residence replaces it.

One of 20 single family homes on a semi-forested seven acre exclusive neighbourhood, designed in tandem with landscape architect Cornelia Oberlander, the home incorporates existing bedrock and opens up to ocean views. Like the best of Erickson's and indeed West Coast modernist design, it is perfectly sited to integrate architecture with the surrounding natural environment.

The West Coast Modern Home Tour 2017 (opens in new tab)

The West Coast Modern Home Tour 2016 (opens in new tab)

The West Coast Modern Home Tour 2015 (opens in new tab)
INFORMATION
The 13th Annual West Coast Modern Home Tour presented by British Pacific Properties is on the 14 July 2018. For more information, visit the West Vancouver Musuem website (opens in new tab)