Lake Flato's tranquil retreat draws on Texan ranch design
A sprawling creek, rich pastures, and small open-air barn provide the perfect family retreat at Verde Creek Residence by architecture firm Lake Flato - one of the many, striking projects included in the studio's newest monograph by Rizzoli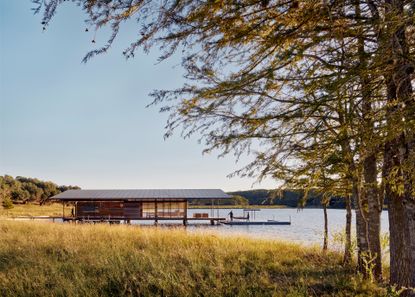 (Image credit: lake flato)
Discreetly tucked away in a creek bend, Verde Creek Residence is a tranquil retreat that creates the experience of discovering a hidden clearing between towering trees and a rocky hillside in Comfort, Texas. Designed by studio Lake Flato, the extraordinary escape emerged after the clients approached the American architecture practice having been long-time friends and supporters of their work.

'It was lovely to already have the client's trust, so they gave us the freedom to really respond to the site architecturally and suggest what we thought was best' explains associate at Lake Flato Laura Kaupp Jensen. 'When we walked into this wide-open clearing at the bend of the creek, bordered by the tall Cypress trees and the rugged hillside, we wanted to preserve as much of that spatial experience' she adds.
The ambition for the project was to design a house that celebrates the outdoors, incorporates sustainable technological features, and adds to the landscape. The dwelling boasts a small open-air horse barn to the south, a games room, bedroom cabins with impressive vistas, and a large open living porch with beautiful views to the creek and lake beyond. At the hillside edge, the stone and concrete buildings are carefully dug into the earth.

Contrastingly, at the creek's edge, the wooden structures are elevated to allow floodwaters to pass underneath. The main building acts as a bridge between the hillside and creek edge and reflects each of them respectively. 'We wanted to keep the palette simple for the exterior and interior – Cypress wood, local Lueders, and concrete,' explains Jensen. This allows the building to provide a sense of lightness with its exposed frame, earthly palette, and large glass panels.

In October, leading design publisher Rizzoli is publishing a new monograph on Lake Flato's residential work. Titled 'Lake | Flato Houses: Respecting the Land' the architecture book will feature a wealth of homes, such as Verde Creek Residence that showcase the firm's careful considerations of place, the environment, and family living.
INFORMATION
lakeflato.com (opens in new tab)
rizzolibookstore.com (opens in new tab)