Vatican Chapels steal the glory at the Venice Architecture Biennale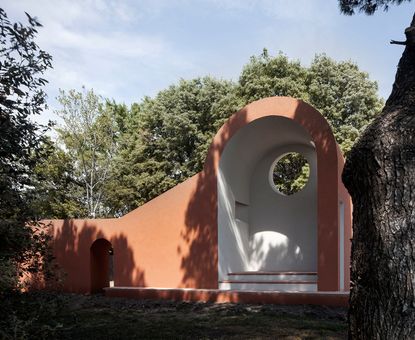 (Image credit: Alessandra Chemollo)
Expectations ran high for the Vatican's debut at the 16th Venice Architecture Biennale. And call it divine intervention or curatorial genius, but 'Vatican Chapels Pavilion of the Holy See' undoubtedly stole the show, proving to be the most talked about project of the opening week.
Its tranquil location away from the madding crowds helps. Laid out among the woodland of San Giorgio Maggiore Island, it felt like a pilgrimage of sorts, a voyage of discovery with a multiplicity of offerings evoking a mini-Giardini of its own – but a garden united in its devotion to simplicity, contemplation and prayer rather than the grandiose gestures of competing national pavilions.
Curated by Professor Francesco Dal Co, Italian architecture historian and editor of Casabella magazine, the project consists of ten pavilions by ten different practices from across the globe with whom Dal Co has paired a variety of manufacturers to produce radically different designs. The roster of names ranges from heavyweights such as Sir Norman Foster and Eduardo Souto de Moura to Chilean architect Smiljan Radic, creator of the 2014 Serpentine Pavilion, and Paraguayan architect Javier Corvalán. Each was given carte blanche to design 'without any reference to commonly recognised canons'.
The project's starting point was Gunnar Asplund's seminal Woodland Chapel, built in 1920 in Stockholm's Woodland Cemetry, and specifically his theme of the chapel as 'a place of orientation, encounter, meditation and salutation'. This is clearly explained in a concise exhibition featuring Asplund's original drawings inside the first chapel that visitors encounter – an elegant shingle hut designed by Francesco Magnani and Traudy Pelzel in collaboration with Alpi Wood.
Although a fan of gravel paths cut through the site from Palladio's Cloister towards the lagoon, visitors are encouraged to meander off through the trees like protagonists in a fairy tale, stumbling across each diverse construction, which often elicit audible gasps as views unfold. Sense of adventure and bucolic setting aside, it is the simplicity of the concept – the sole unifying feature of them all is an altar and lectern – and the broad spectrum of the architects' response that is at the heart of this project's universal appeal.
'Not a project; a reflexion' by Francesco Cellini was created in collaboration with Panariagroup
There is something for everyone, even atheists – with several participating architect non-believers, such as Italian architect Francesco Cellini whose 'Not a project; a reflexion' focuses on the architectural meaning of sacred spaces with his abstract open composition of two intersecting rectangles.
Also, perhaps, Portuguese architect Eduardo Souto De Moura. The title of his low monolithic honey-coloured Vicenza stone structure is 'No, it is not…' suggesting a meditative space rather than something sacred. Inside, a cross appears as the slenderest cut in the stone. 'It is not a chapel, not a sanctuary and in any case, not a tomb. It is simply a place enclosed by four stone walls, while another stone at the centre might be the altar,' he says.
Eduardo Souto de Moura, who is known for his use of stone, created a simple low-lying chapel
Foster's open-air timber chapel, 'Crosses morphed into a Tensegrity Structure', is likely to become the star attraction. Situated between two mature trees, the apse faces onto the lagoon. Inside, visitors can ponder on pebble-like wooden benches. Foster worked with Tecno and Maeg to realise his vision, composed of a timber bridge with a canopy created by a series of cross-shaped pylons clad in timber. On a tour of the project, the British architect called it an 'incredible endeavour that started with the transition of the first idea of a membrane into a timber grillage'.
Foster received a 'papal dispensation' awarded by Cardinal Ravesi at the opening ceremony of the Vatican Chapel
Foster's is already at one with the landscape, with floral creepers winding up around the timber struts. Environmental impact is minimal, with many of the pavilions barely touching the ground, and yet they also embrace the landscape. De Souta's incorporates a tree. Sean Godsell's 'Relocatable Chapel', designed as a dynamic portable entity, incorporates a perimeter of low grasses in the design. Meanwhile, Javier Corvalán's timber Nomadic Chapel is a cross-section of a cylinder, only supported by tripod constructed from Venetian bricola sunk into the ground, the shadow of a cross thrown onto the grass by the sun.
Javier Corvalán's timber Nomadic Chapel, a circle of timber, appears to unfold in the forest
Most uplifting is 'The Morning Chapel' by Barcelona architects Ricardo Flores and Eva Prats in a pleasing Venetian shade of burnt sienna. Devised as a meeting place and shelter, the modernist chapel is conceived as 'an excavation in a wall', but like a Barbara Hepworth sculpture is riddled with apertures that create different aspects and contrasts of light and shade. On the eastern edge of the island, it catches the first light of the day. 'The first sunlight becomes visible through a ray of light that trespasses a circular hole in its wall. The Morning Chapel, catching the sunlight on its walls, and the island forest, a continuous canopy in darkness, together establish a quiet place, an invitation to sit alone or in a group,' say the architects.
All the chapels have been constructed to enable relocation following the Biennale, but it's hard to imagine a more spiritual setting than this.

See all the latest news and stories from Venice Architecture Biennale here
INFORMATION
Vatican Chapels Pavilion of the Holy See is on as part of Venice Architecture Biennale until 25 November
Address:
Island of San Giorgio Maggiore
Venice
Italy
Receive our daily digest of inspiration, escapism and design stories from around the world direct to your inbox